Cork Board Myspace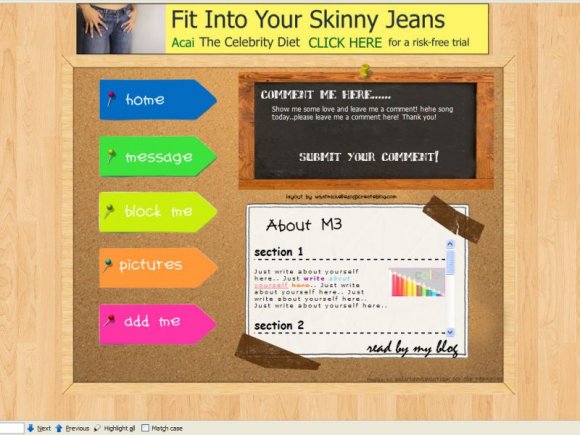 Designer's Comments
Look carefully for specific instructions
please add me!! http://myspace.com/youreuniquedesign
please add me!! http://myspace.com/youreuniquedesign
please add me!! http://myspace.com/youreuniquedesign
please add me!! http://myspace.com/youreuniquedesign
this works best in firefox--and internet explorer too! and it works all resolutions!
if you have any PROBLEMS AT ALL please email me at lilstrawberryheart@yahoo.com and put in the subject layout help. cause i've been getting spams in my emails and i hate to get a virus. so please put "layout help" if you got any problems" and send me the code what you have as for right now.
my previous layout
here
i realize how slow the layout loads; if ur patient enough it would load lol i was freaking out why it wasnt loading but hardly enough it loaded after a few seconds.
BEFORE YOU ASK READ BELOW FIRST!!!
FAQS!
HAVING TROUBLES WITH THE COMMENT BOX
I FIXED THE COMMENT BOX!
"WHERE DO I PUT MY FRIEND ID?"
-Put your friend id in the layout where it says "YOURFRIENDIDHERE"
-to do that..Ctrl+F (Apple F for Macs) and type in the find box YOURFRIENDIDHERE and replace (paste) it there
-To get your friend id..go here...
click here to get your friend id !
"HOW TO ADD AN IMAGE"
-GO TO "aboutwhatmichelledo" DIV CLASS SECTION PUT THIS TAG:
GO HERE TO KNOW HOW TO ADD AN IMAGE
-MAKE SURE YOU DON'T MAKE THE WIDTH OF THE IMAGE is 100px and HEIGHT 50px;
"HOW TO CHANGE THE CONTENT OF THE DIV"
-to do that..
Ctrl+F
(
Apple F for Macs
) and type in the find box
just write about yourself
here.
-to change the title section headers in the "aboutwhatmichelledo" div go
Ctrl+F
(
Apple F for Macs
) h1 and you will section 1, etc and delete that and change it.
-
ENJOY!
"MY RESOURCES"
-HUGE THANKS TO and GOT PERMISSION FROM 100%
SEDART
for the wonderful cork board template and the title of this layout lol-yes this would be the last time i will change the title of this layout LOL,
GNRBISHOP
FOR THE BACKGROUND, AND
STOCK EXCHANGE
for the chalkboard and paper that is stuck on the brown tape.
Using This Layout
For specific instructions read designer's comments
This is a div overlay layout, html knowledge required!
1. Log into myspace.com
2. Click on

Edit Profile (Profile 1.0)

3. Copy

(ctrl c)

and paste

(ctrl v)

code to the specified fields
Update Friend ID
Input Friend ID to automagically update code
Layout Code
Copy and paste to About Me
Layout Code
Copy and paste to I'd Like to Meet
Layout Comments
Showing latest 10 of 52 comments
I really love this! Love it, love it, love it! I love ALL bulletin board layouts! Hee hee!
i do not know. i stopped making myspace layouts because they keep changing the codes. it wasn't worth it anymore.
well then i guess you havent cracked the irritating code =[

it kept saying this

"This web page is being redirected to a new location. Would you like to resend the form data you have typed to the new location?"

so basically i need help
so im using this now, and for once someone actually got the comment box right. For some weird reason, every body else and there comment boxes always directs you to a "linksys?" or something that says "myspace will not allow you to continue to this page blah blah blah..." anyways ill comment again after im done with my page and see if anything new needs a few touching such as the css/html or whatever.
you are amazing at layouts. I love this onee!!
this izz inssane. I never use div overlay s though becasue they confuse me so much/.. but they are more entertaining.
very cute
how do i fix the comment box
nooo!!! this is perfect but needs myspace copyright :/
Wow this is anther GREAT layout!! You got skills girl!! :D :D :D
View all »
Layout Tags
Layout Tools
Layout Affiliates