Why So Serious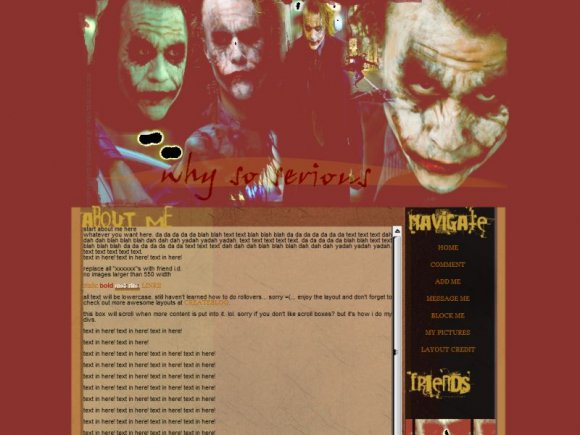 Designer's Comments
Look carefully for specific instructions
In Loving Memory of Heath Ledger. R.I.P.

made in; PAINT SHOP PRO 9
BY: EMMI JANE


instructions.
1. PASTE CODES INTO SELECTED AREAS WHEN YOU GO TO 'EDIT PROFILE' FOR MYSPACE.
2. DO NOT SAVE YET. REPLACE ALL XXXXXXX's WITH FRIEND ID. YOU WILL FIND THESE IN THE 'navigation.' SCROLL BOX AT THE BOTTOM OF THE CODE THAT GOES IN 'WHO I'D LIKE TO MEET'.
3. SAVE, OR DO NOT. YOUR CHOICE. I RECOMMEND NOT.. BECAUSE YOU STILL HAVE TO REPLACE ALL THE SAMPLE CONTENT WITH YOUR OWN.
4. REPLACE ALL CONTENT I WROTE IN WITH YOUR OWN STUFF.
5. LEAVE THE CREDIT ON THERE. SAVE.
6. ENJOY THE LAYOUT!

do not re-code, redistribute, or claim as own.
& i don't care if you don't like it.
so save the negative opinions for someone who gives a crap.
Using This Layout
For specific instructions read designer's comments
This is a div overlay layout, html knowledge required!
1. Log into myspace.com
2. Click on

Edit Profile (Profile 1.0)

3. Copy

(ctrl c)

and paste

(ctrl v)

code to the specified fields
Update Friend ID
Input Friend ID to automagically update code
Layout Code
Copy and paste to About Me
Layout Code
Copy and paste to I'd Like to Meet
Layout Comments
Showing latest 8 of 8 comments
Okay, i have a question, whenever you click on 'Pictures' and 'Comments' and what not..it comes up to a page that says Invalid ID or somthing like that...how do I make it NOT do that and just GO to my Pictures or Comments..?
I likes it but its wayyyy too red ._.
the layout's cool but it need's more color to much red :]
i like it, but a bit too red for my tastes
aww Joker .. :) .. my bf gave me a PEZ Joker a few days ago haha
i love the joker more than anything. fell in love with him when i saw the animated series years ago. however, i dont like how it's pin lighted everywhere. it would've looked awesome if you pin lighted a smaller portion around the joker, not the whole thing. however, i like it [: just being honest.
I love the picture, but the content box colors aren't right to my eyes.

Great job though!! :D I love the Joker, he's my favorite. :)

Sara Palin scares me...O.o
This is cute. I saw a Sara Palin protest sign with her face done up like the jokers lol with 'why so serious'.
Layout Details
Layout Tags
Layout Tools
Layout Affiliates