Shine With Me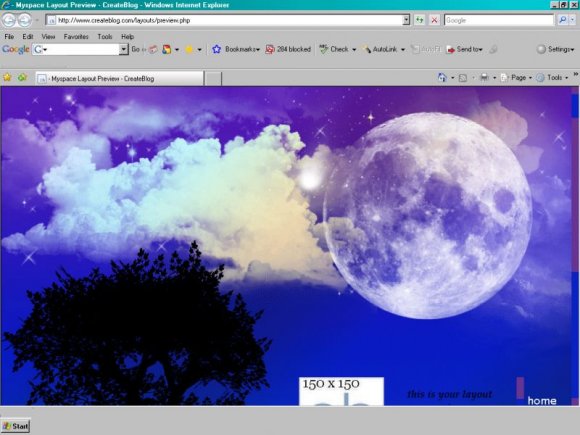 Designer's Comments
Look carefully for specific instructions
I thought I would create a new layout design, and I had an image in my head--and I had to just go for it, and here it is, enjoy :)

~*Update*~ Added rollovers :)
If you want to use the image as a wallpaper or whichever you want, this is my link, http://i216.photobucket.com/albums/cc191/atord1987/shinewithmebackground.png

Feel free to check out my other div overlay layouts at http://msdazzlebackgrounds.com/myspace-layouts/51/page/2

If you want to hide comments for this or any DIV layout or DIV OVERLAY layout, here is the link for the code, place it in the "I'd like to meet" section. http://msdazzlebackgrounds.com/myspace-codes-hide-comments

Please have advanced knowledge of div overlays prior to using this layout. I am not responsible for anything after using this layout, and everything that you do is at your own risk.

1-Tested to be working in Mozilla and Internet Explorer 7+.
2-Please Leave my credit intact, I spent alot of time on this layout, and literally my back and neck hurts from slouching the whole time :)
3-Please leave the layout "as is", take it or leave it :) please do not alter it, however, you can change the font colors, link colors, if you want your own color, you can also change the scrollbar color, also, you can change the font styles to whatever you want.
3-I made it all go into the "About Me" section to make it easier.
4-Scrollbar colors will show up in Internet Explorer, and not in Mozilla.
5-Anytime you use a div overlay layout, please make a backup copy of your profile the way it was before in notepad or any text editor.
6-Only use if you will make a backup copy of your original layout prior to pasting this code.
7-Replace the "XXXXXXXX" with your friend id for the main links.
8-Replace the "your about me" text, and put anything you want.
9-Towards the bottom, for the comment box, look for "div class="comment" and put in your friend id where it says "value="YOURFRIENDIDHERE"
10-Replace the photo with a 150 by 150 photo. To change your link picture, find where it says "replace the picture url with your own!", and put in the given url.
11-If you have any questions, just pm me.
12-You can get your own custom mp3 flash music player at myflashfetish.com If you do not want the one I used, and you can add your own songs. To change the flash player, look for the "div class="music" towards the bottom, and replace that code with your own, make sure you keep the div tags.
13-Credit-brushes-http://www.brushesdownload.com/ and http://www.webresourcesdepot.com/64-beautiful-and-free-nature-brush-sets-and-vectors-giant-design-pack/
and http://www.brushes.obsidiandawn.com/sets/glitter.htm
14-Check out my website for more layouts
http://www.msdazzlebackgrounds.com and http://msdazzlebackgrounds.createblog.com/layouts/
15--Poem is from http://www.artvilla.com/mair/moonrising.htm
Enjoy!
Using This Layout
For specific instructions read designer's comments
This is a div overlay layout, html knowledge required!
1. Log into myspace.com
2. Click on

Edit Profile (Profile 1.0)

3. Copy

(ctrl c)

and paste

(ctrl v)

code to the specified fields
Update Friend ID
Input Friend ID to automagically update code
Layout Code
Copy and paste to About Me
Layout Comments
Showing latest 10 of 16 comments
Thanks.
GORGEOUS!


Thank you :)
You're Welcome :) Your comment is much appreciated.
to let you know I used this layout in Safari and it worked great. Thanks so much!!
i LOVE the background !
Thanks =) Read number 19 I didn't write it though.
i loveee that poem you put in the place we put our about me section... so great :) did you write this?
thanks :)
wowoowoowowo looovvveee the pic i might use this
it's called "Sadness" by Enigma.
View all »
Layout Tags
Layout Tools
Layout Affiliates