Carnival of Tragedy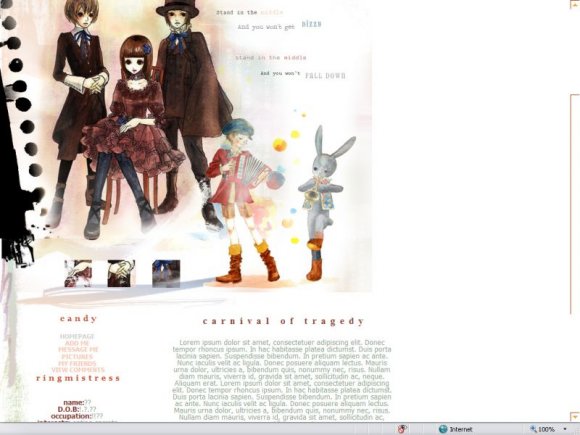 Designer's Comments
Look carefully for specific instructions
Replace XXXXXXXX with your ID.
Please don't claim it as your own or take off the credits, because that's just stupid and it will make me very unhappy. You know that.
-I think I did quite a lovely job on it, and if anything dosn't work, just tell me and i'll try to fix it for you.
-You are free to add, modify or delete modules.
If there's any problem, question or if you just want to say Hi (i'm really friendly)... visit my
myspace
Credit goes to stormbringer forever and ever, so don't take it off.
Using This Layout
For specific instructions read designer's comments
This is a div overlay layout, html knowledge required!
1. Log into myspace.com
2. Click on

Edit Profile (Profile 1.0)

3. Copy

(ctrl c)

and paste

(ctrl v)

code to the specified fields
Update Friend ID
Input Friend ID to automagically update code
Layout Code
Copy and paste to About Me
Layout Code
Copy and paste to I'd Like to Meet
Layout Comments
Showing latest 10 of 26 comments
"carnival of tragedy" is a beautiful name, so is the layout :D
heii your layout is awesome
buut i have a liittle trouble with it
i want to write my about me but
it doesn't appear the space where you write carnival of tragedy and all of that stuff it doesn't appear so i can't change and put my about me help me i really want this;;but i am mussing somenthing?

and alot of things
where do a change that?


I.............LOVE..........IT .......ALL. I LIVE FOR THIS but my friends would call me weird. anywho beautiful layout. :)
love it lol and the song is 1,2,3 bye Camille
never mind, it's just really amazing:)
it's amazing, but the new myspace nav might mess it up.
i cant find the XXXXs on your lyts :[ and i mean all of them
i feel dumb T.T help please?

oh and can you message me on myspace? i added you. my url is www.myspace.com/hi_imlindaa
The song is nice and adds a sad, kind of eerie twist to the whole layout.
It reminds me of a twisted circus that seems normal to save face.
I love this layout, I'm using it currently.
What is the song?
And whom is it by?

You're layout is fantastic, thank-you.
Ditto, I love it!
But I'm having trouble with the links... LOL, What am I doing wrong?
Superly lovely. The only thing that didn't work for me was when I hit homepage and my friends, it took too long and said 'Problem loading page'.
I was thinking either it's my computer, OR the new myspace ways.
I don't mind all too much but, if you know how to help me with it, that'd be wonderful.
This layout is truly marvelous though! Great job! ^.^
View all »
Layout Tools
Layout Affiliates