Peace: not war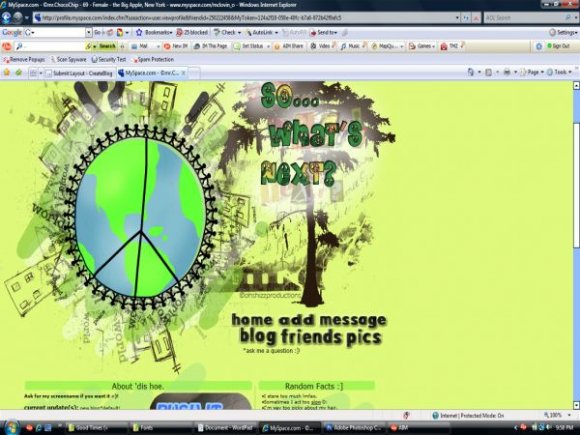 Designer's Comments
Look carefully for specific instructions
first of all...

i'd REALLY love it if you wouldn't keep saying what I did wrong because the way I set it up was originally just my own idea and I thought it would look nice.

and idk why everyone's saying there's something wrong with the links because that's exactly how I intended them to look ._.

so get over it, my god.

BUT anyways....

though it's not too good..
I hope you like it :D!

replace XXXXXX with friend ID

add nav links where it's told.

change headers to what you'd like.

any problems?

feel free to ask :o!

probably doesn't work with like FireFox and Operah ...etc.

Made on IE.

enjoy
Using This Layout
For specific instructions read designer's comments
This is a div overlay layout, html knowledge required!
1. Log into myspace.com
2. Click on

Edit Profile (Profile 1.0)

3. Copy

(ctrl c)

and paste

(ctrl v)

code to the specified fields
Update Friend ID
Input Friend ID to automagically update code
Layout Code
Copy and paste to About Me
Layout Code
Copy and paste to I'd Like to Meet
Layout Comments
Showing latest 10 of 33 comments
Can u please help me ??? I really like this layout but i dnt know how to like put the links. well i know how to but i dnt know where they are. help me please !
F--king LOVE it!
Eeeel! >///< I screwed something up and I don't know what it is!!!! D:


Like, like, like, uhmmmm. Okay, you know how it says "ABOUT ME" and "COMMENT BOX"??? Yeah, I think I messed it up 'cause it's off. Like the words COMMENT BOX are lowered to where they're not on the green header but instead they're laying on the comment box!

So I was like, Crapppp. I screwed myself. Do you know what I did wrong or could've done wrong?? 0____o
I love it!! I've just about worked out how to edit it lol, not your fault, I've just never tried before.
Tis perfect in every way :D

How do you change the dinosaur picture in the about me section?
I THINK ITS A BEAUTIFUL LAYOUT

and theres NOTHING wrong with it
umm...idk how to make the messaging ect.. things work...plz help mee! dudee this is such a greate layout!!! i freekin love it!!! its perfect!!!! i fell in love with it as soon as i saw it:D but i dont kno much about putting divs :[ need help...plz :]
wheredo i go to write in the little box like marquee cause i try writing and it goes next to it not under and where did you get that cute picture of the dinosaur?
(I was saying wtf about the guy getting chased by the monster...thingy lol)
lol wtf? this is crazy
the people who think something is wrong actually just dont kno how to make these work. This is a fantastic layout! im soo using it next time i change my myspace up!
View all »
Layout Tools
Layout Affiliates