A Touch Of Bliss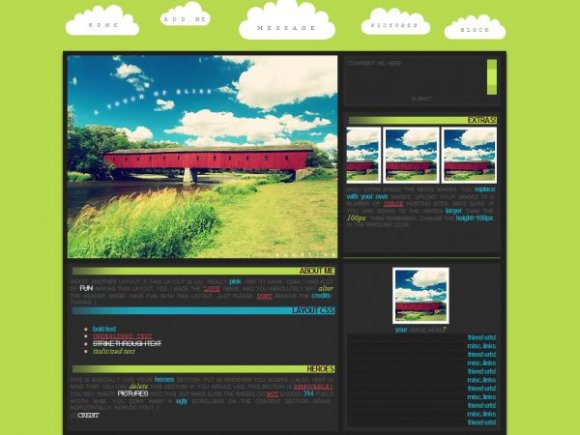 Designer's Comments
Look carefully for specific instructions
My gift for thanks giving :)
Even though this has nothing to do with thanksgiving, what the hell!
Replace the "xxxxxxxxxxxx"s in the navigation links with your myspace ID (view below to find myspace ID to make the links valid.
To locate your myspace ID, log in to your myspace, click "view my profile", and at the end of the internet adress bar should have numbers.
Example:3423434
TO REPLACE THE IMAGES WITH YOUR OWN
, replace the image urls with your own.
The image starts with
img src="IMAGE URL HERE"
To replace the images with your own images, replace the Url within the quotes.
IMPORTANT
If you are having trouble finding the navigation links to replace with your myspace id, they are the
VERY FIRST
set of codes in the
"WHO I'D LIKE TO MEET"
codes =)
Please, dont remove the credits.
Enjoy! =)
IMAGES:
I really dont know who or what to credit, I got that image off Adobe stock photos, and ps'ed the hell outta it =D
Check us out!
SWEET!@
Using This Layout
For specific instructions read designer's comments
This is a div overlay layout, html knowledge required!
1. Log into myspace.com
2. Click on

Edit Profile (Profile 1.0)

3. Copy

(ctrl c)

and paste

(ctrl v)

code to the specified fields
Update Friend ID
Input Friend ID to automagically update code
Layout Code
Copy and paste to About Me
Layout Code
Copy and paste to I'd Like to Meet
Layout Comments
Showing latest 10 of 115 comments
BECAXX, I believe you about your song not playing in FF but playing in IE8. IT's kind of irritating. It's also like, layouts look one way in Google Chrome but a bit distorted in FF & IE8. Things are just different.
Oh this is one of the first layouts I ever saw on here and it's one of the layouts ( there were 2) that brought me here, made me really look at Createblog like they had something going on (:
It has scroll bars....the ugly scroll bars.

I'm setting this up for my cousin's myspace and I don't want the ad to be hidden, because I'm afraid my cousin's account will get deleted or whatever. Can you tell me what part of the code hides the ad?
great colors & love the roll-overs!
i love the roll overs.
^-^
For some reason this makes the ad appear in the middle of the page...Not sure if it's just me or what... >>
Not sure if someone has said this already, but when using Firefox, myspace songs do NOT play. On the other hand, they DO play when using IE. Not sure what's up with that but just letting you know if you didn't know already.

Amazing layout by the way. I'm using it currently if you couldn't tell. lol
ok.. so i supa love this right? and i used it of course cause your amazing at this creation! but.. i have a tinsy bit of a problem.. before every picture i has a white box saying "terms of service violation". i looked through out the whole code and i couldnt find anything that would do that.



Help? please? :)
i love the rollovers! :D very cute.
also, the photo!
*sigh*
a touch of bliss ;D
View all »
Layout Details
Layout Tools
Layout Affiliates