Confusion.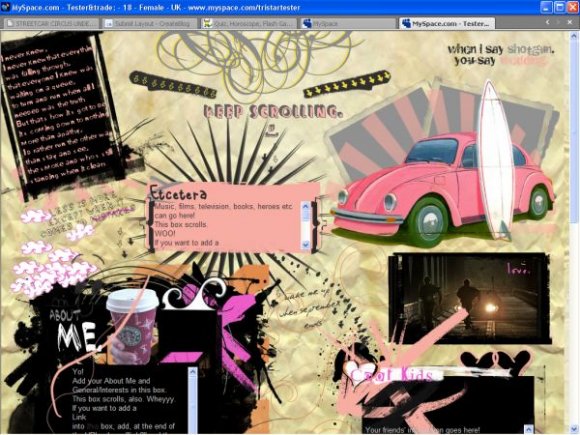 Designer's Comments
Look carefully for specific instructions
READ!! IMPORTANT!!

Please put in your Friend ID BEFORE you press 'Save All Changes'. If you don't, the codes won't work, which is probably why so many of you are missing links/the comment box isn't working. K? Thanks!

And also, if you go to http://www.createblog.com/scripts/script.php?id=574 there, you can use that script to change where the music player is, which should then play.

(I made this layout for my personal MySpace, and wasn't going to post it on here, but I did, so you could say it's a bit chaotic and weird etc, but I tried a lot to put in what I thought was alright, what matched my personality etc, so if you don't like it... well... to be honest, tough, really. =/ =] If you do like it, thanks! =D)

Lyrics:
Lostprophets,
Panic! At The Disco,
The Used,
The Fray,
Kaiser Cheifs,
Green Day.

Pictures:
Supernatural,
Starbucks cup,
VW Beetle,
Old//vintage music player.

Add your Friend ID where it says: FRIENDIDHERE.

Read the stuff I've written carefully, then edit the stuff to your own writing.

Only tested in Internet Explorer, with a screen resolution of 1024 by 768 pixels, so it might not work for you...

Anything else, tell me. =]

Enjoy.

CREDITS: http://www.eyepaint.net - concept & brushes
http://www.streetcarcircus.net - brushes.
Using This Layout
For specific instructions read designer's comments
This is a div overlay layout, html knowledge required!
1. Log into myspace.com
2. Click on

Edit Profile (Profile 1.0)

3. Copy

(ctrl c)

and paste

(ctrl v)

code to the specified fields
Update Friend ID
Input Friend ID to automagically update code
Layout Code
Copy and paste to About Me
Layout Code
Copy and paste to I'd Like to Meet
Layout Comments
Showing latest 10 of 216 comments
Yeah, one of my favs.
I LOVE THIS!!!!!!!!!!!!!OH MY GARSH,
(¯`v´¯)
.`·.¸.·´ ¸.·´¸.·´¨) ¸.·*¨)
(¸.·´ (¸.·´ .·´ ¸¸.·¨
love it. its so unique
Love it!

hay;;i love dis layout;;and usually wen i love something it dnt work out so;;i need help and this is my problem everytime i type in something in that box that says [etctera] my about meh;;cool kids;;and comment writin doesnt show up at all and also i was trying to change the navigation links to say something else like yew no when it be like add meh and on people pages it say be my friend i was trynna do dat like remix wat yew made to fit meh;;well im blahhin so pretty pretty plz contact asap;;oyea ur such a wonderful layout person i guess dats wat yew would call it bt idk so yea thanx so muchhhhhhhhhhhhhhhhhh and also..gnr;;;bt i was wondering if yew like customized or personalized layouts for people???well thanx again;;bye!!!

Love Always-KewlBrezze
love it i changed the Bold and underline colours to blue and hot pink
love love love this!!
great layout! love the images you have here.
Very cool. :)
wow. impressive design. font coulda been better.
but i like it.
View all »
Layout Details
| | |
| --- | --- |
| Designer | PaintMyFace |
| Submitted on | Oct 8, 2007 |
| Page views | 203,250 |
| Favorites | 1615 |
| Comments | 216 |
| Reviewer | IVIike |
| Approved on | Oct 8, 2007 |
Layout Tools
Layout Affiliates