make love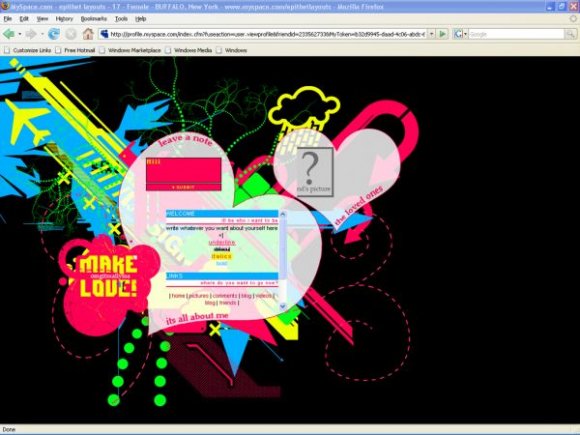 Designer's Comments
Look carefully for specific instructions
***************************************
NEW CODE
***************************************

REMEMBER TO DELETE ALL THE INSTRUCTIONS FOUND IN THE CODE
example: "< ! - - BLAHBLAH - - >"

***************************************
INSTRUCTIONS
***************************************

please change all "XXXXXX" to your myspace id number

when changing your friends picture, remember to change the url as well...
change "FRIENDSID" to their myspace id number
the dimension for the picture is 100 x 100

with this layout, you may change the colors for the bold, strikeout, italics, and underline if you wish

you may add more sections if you would like to

please do not remove my credit, or edit anything on the graphics and other div codes.



***************************************
HELP? / FAQ
***************************************
What is my friend's ID number?
- go to your friends page
- look up at the url
- example: http://profile.myspace.com/........friendid=151565090
- my friend's ID would be 151565090
- your friend's id is a bunch of number found after "friendid=" in the url of their myspace page

My friends arent showing up??
- wait a while on your page... it takes a while for the friends coding to show up the first couple times after you put the new layout up.
- [if they are showing "x's"]
make sure you did the coding for your friend's picture correctly
< i m g_s r c = "FRIENDSpictureURLhere">
change the _ to a space, and remove all spaces between the < and >

My Friends pictures are only showing half...
-Refresh the page

***************************************
TROUBLESHOOTING
***************************************
If you layout does not work, please follew the steps below =D

1. Login to Myspace then go to "EDIT PROFILE"
2. DELETE everything that is in "About Me" section, "I'd Like to Meet", "Interests", "Music", "Movies", "Television", "Books", and "Heroes" section.
3. Make sure that all the codes from past layouts are deleted.
4. Add the code below to the "About Me" section
5. Change all "XXXXXX" to your friend ID
6. Make sure you only delete "XXXXXX" to make sure that all your links work correctly
7. There is new code that helps you as you scroll down through the code.
8. REMEMBER TO DELETE ALL THE INSTRUCTIONS FOUND IN THE CODE
example: ""< ! - - BLAHBLAH - - >""

***************************************
ONLINE HELP XD
***************************************
add me as a friend on createblog and talk to me by commenting on my profile page =D

school is starting so i might not have enough time to help everyone, but i will definitely try
Using This Layout
For specific instructions read designer's comments
This is a div overlay layout, html knowledge required!
1. Log into myspace.com
2. Click on

Edit Profile (Profile 1.0)

3. Copy

(ctrl c)

and paste

(ctrl v)

code to the specified fields
Update Friend ID
Input Friend ID to automagically update code
Layout Code
Copy and paste to About Me
Layout Comments
Showing latest 10 of 136 comments
This is really, really cute and outstanding but I could 'swear' I have seen this exact type at Whateverlife.com. I'm not suggesting anything; simply saying that I'm pretty certain ( but not 100%) that I have looked at this on Ashbo's site.
Anyway, it's cute so whatever...
oh nd can i use it?
how do you put your freinds pic in ???
I REALLII LOVE DDIS LAYOUT...IS IT KK IF I USE???
IMA START SETTN IT UP KK
SO JUS LET MII KNO N IF NO DEN ILL TAKE IT OFF
:]
CAN I USE?
can i use this please!?
can i use?
This layout is amazing :]
I love it!
looks great! wonderful job!
can i use this please?
View all »
Layout Details
Layout Tags
Layout Tools
Layout Affiliates