Peter Wentz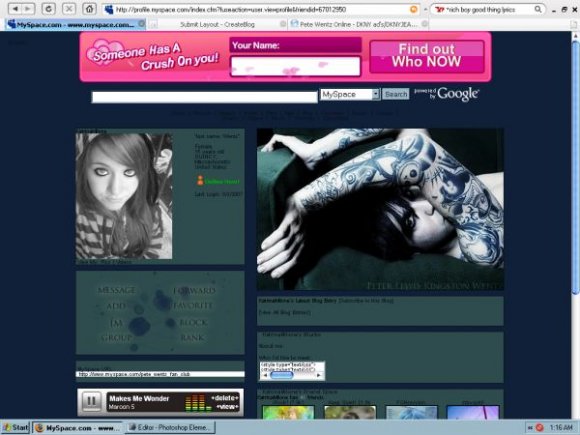 Designer's Comments
Look carefully for specific instructions
Please no stealing!
Using This Layout
For specific instructions read designer's comments
1. Log into myspace.com
2. Click on

Edit Profile (Profile 1.0)

3. Copy

(ctrl c)

and paste

(ctrl v)

code to the specified fields
Layout Code
Copy and paste to About Me
Layout Comments
Showing latest 10 of 31 comments
I'm not a huge, obsessed fan of Pete, but this is nice, most layouts are focused on his face, but i like his tats, they are awsome.
So good work it looks really cool! :)
i hate him, but the layout is pretty sweet
It's an freakin awesome layout
I freakin' love this, my best friend is going to shit when she sees this layout. It's awesome to say the least!
i LOVE this layout
Umm, one question, if you hate Createblog so much if it's a "fucked up site that sucks fucking ass" why do you continue to submit layouts? and I agree with BHS, no one trying to be dramatic, if anything you are the one over reacting, 'cause there IS something called constructive criticism in this world, accept it. Other than all that good layout, nice contact table.
I think that she did a wonderful job and it shouldn't matter what person is on it! All that matters is the quality of her work and her use of colors etc. Don't judge her because she makes a pete wentz layout. I think that was rude to say that she will only upload Pete wentz layouts when clearly, you have no idea what she is planning for her next layout. Katrina, you did a wonderful job on this and I love it! Fuck what others have to say.
this looks great i love it but i do also agree with Blaqheartedstar. i have nothing against pete, he's a legend on bass, but im kinda getting bored with seeing him everywhere.. go patrick :) nice job though it really does look cool.
i think this is the best layout of pete wentz that there is on this site!!!
no need to make this into drama, because its not what was ment nor hinted in my comment. it was a simple comment saying the layout is nice new in terms of picking a image of him because its the first time someone makes a layout without showing all of his face.
as for choosing a different artist, i ment that i just hope this isn't the start of a long line of just pete wentz layouts from you.
and about createblog, as of late they have lowered their standards a great deal, so theres no need to complain that the site isn't all that great, and then post a layout here... makes no sense.
View all »
Layout Details
Layout Tools
Layout Affiliates