click click boom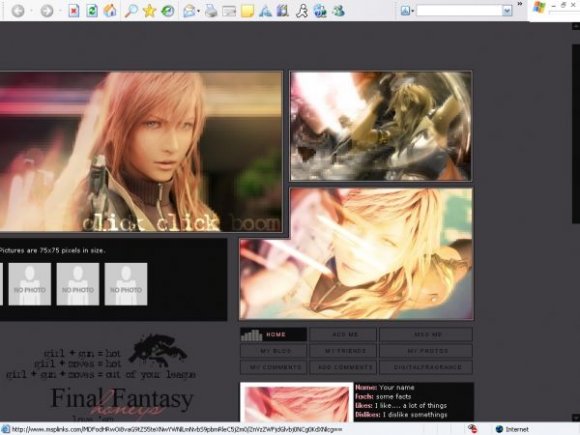 Designer's Comments
Look carefully for specific instructions
myspace.com/digitalfragrance
|
designer's portfolio
Remember! -
Replace ***YOUR USER ID HERE*** with your myspace ID number.
This includes erasing the asterisks! Those are found throughout the layout code (The links, the comment form, your personal information) - make sure you replace all of them!
To find your Myspace User ID number:
1. Click "View Profile" from your home page.
2. Then copy the numbers on the end of the URL in the address box.
3. TADA! It's your Myspace User ID number.
To Change Your "No Pic" scrolling Pictures (Friends):
1. Go to a friend's site.
2. Right Click their profile picture. Click "Properties" and Copy the URL (internet address) of the picture.
3. Go to your code. Paste the URL where the current "No Pic" image is in the "marquee" code.
4. Go back to your same friend's site. Copy their site's internet address in the address bar.
5. Go to your code, and paste where this - ***MYSPACE FRIEND URL HERE*** - is dsiplayed.
6. Viola! Now you're done. Just repeat these steps with the rest of the pictures.
To Change your Profile Picture
The same thing applys to this as well. Copy the URL (internet address) of the picture you want to use, and paste that where the current .jpg file is.
This is located in after your scrolling marquee code for your friends pictures and is before your "NAME, FACT, ...etc"!
IMPORTANT
. If you add a lot more stuff to you content area, increase the height of your first div layer (the first part of the Who I'd Like To Meet") from 1300 px to a larger value.
Using This Layout
For specific instructions read designer's comments
This is a div overlay layout, html knowledge required!
1. Log into myspace.com
2. Click on

Edit Profile (Profile 1.0)

3. Copy

(ctrl c)

and paste

(ctrl v)

code to the specified fields
Update Friend ID
Input Friend ID to automagically update code
Layout Code
Copy and paste to About Me
Layout Code
Copy and paste to I'd Like to Meet
Layout Comments
Showing latest 10 of 28 comments
Lightning! cool ! i love it !~ FFXIII ~
Aweeesomee!
awesomest layout i've seen in my life!

FF7 and FF13 fan XD
i cant get rhe msg and the home one to work
checked for spaces but cant find any
can someone tell me where to look specifficcly>
ok...i'm sorry if i'm a complete and total noob at this, but i can't get the links for home - add comnts to work.
How do i fix them?
To Rikku92 - make sure there aren't any unnecessary space in those link codes - that's usually the culprit.
hey the only two buttons that dont work are home and message. could you help, because home dosnt need a code to imput, so how would that work?
ok ive used this layout on my friends page and everything works but one thing and thats the home button idk why though so its weird could ya help me out here
how can i use this for an artist page? plz help!!
the layout works great:]..but is anybody else seeing a huge white box below the layouy that give out you general info(status..here for..stc)
View all »
Layout Tags
,
saliva
,
ffxiii
,
lightning
,
final fantasy
,
ffx2
,
final fantasy 13
,
girls
,
gray
,
pink
,
hot
Layout Tools
Layout Affiliates