Pretty Fly ((Azumanga))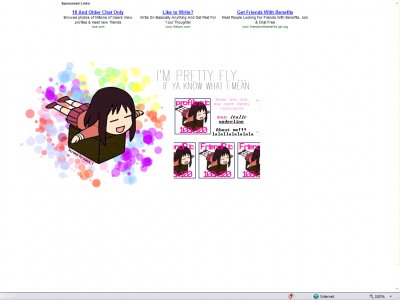 Designer's Comments
Look carefully for specific instructions
yayy my first layout (*O*)/
thanks to toyo loco for helping me with this

replace FRIENDID with your myspace friend id.

to use your own picture, replace http://i61.photobucket.com/albums/h70/xXnavoXx/osaka-profilepic.jpg with your your pic.

to use your friend's picture, replace http://i61.photobucket.com/albums/h70/xXnavoXx/osaka-friendpic.jpg with his or her pic.

Dont forget to replace friend's myspace url with their acutal myspace url.
Using This Layout
For specific instructions read designer's comments
This is a div overlay layout, html knowledge required!
1. Log into myspace.com
2. Click on

Edit Profile (Profile 1.0)

3. Copy

(ctrl c)

and paste

(ctrl v)

code to the specified fields
Update Friend ID
Input Friend ID to automagically update code
Layout Code
Copy and paste to About Me
Layout Comments
Showing latest 10 of 25 comments
Hecka clean where did u make it?
the code for this layout is all messed up. some links dont work so ill remake it, so in the meantime, dont use this layout.
um help how come the about me is all crumbled up and how come my past myspace add on pics ex. surveys or liek quizes liek disappeared??
um i am relly confused help will be appreciated
I reeeally like this layout but::: the comments aren't working and i can't get my profile pic up.... please help!
i found another problem... people can't seem to comment me because there were something wrong with it... i checked my friend id and it's right but when someone clicks it it brings them to view comments instead of making a comment
i have another question to ask you... how come when i put up my profile picture, the whole home,message,add,comment etc thingy moves to the bottom instead of staying in it's normal spot? how can i fix this to where it's located where it should be? :x
yes, i found it... was messing around with my page and stuff and got it thanks a bunchies though :]
ahh the html got cut out of my comment.. whatever, i bet you can find it.
above the "lala" part and where the navigationn is (where you had to replace your friendid lots of times), there is ... thats where your picture goes. at the very bottom of the code is where the friend pics go ^^
i love this layout you made, it's pretty darn good for your first, but i need help on fixing it up... i don't understand where in the heck i put my profile picture and my friend's picture and urls at because i can't seem to find http://i61.photobucket.com/alb ums/h70/xXnavoXx/osaka-profile pic.jpg is loacted at to replace the codes for pictures on and where do i put the urls again? :x -thanks a bunch x3
View all »
Layout Tools
Layout Affiliates