Journey through paradise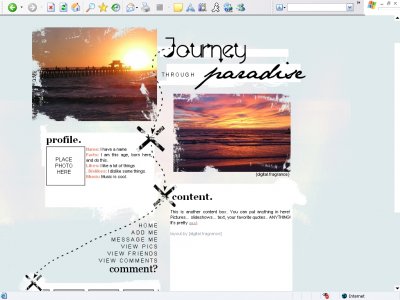 Designer's Comments
Look carefully for specific instructions
myspace.com/digitalfragrance
|
designer's portfolio
This is a div overlay layout, meaning that none of your default myspace tables are going to show up. So, you can edit your personal information. Also I have added an extra area where you can put anything that you want.
MUSIC IS OPTIONAL! If you want it, copy the I'd Like To Meet code. If not, DON'T!
Remember! -
Replace ***YOUR USER ID HERE***
with your myspace ID number. This includes erasing the asterisks! Those are found throughout the layout code (The links, the comment form, your personal information) - make sure you replace all of them!
To find your Myspace User ID number:
1. Click "View Profile" from your home page.
2. Then copy the numbers on the end of the URL in the address box.
3. TADA! It's your Myspace User ID number.
Once you copy and paste the layout code into you About Me section, click the "Save Changes" option at the bottom of the screen. Thanks to the newer myspace update, a manual submit isn't needed anymore :)
To Change Your "No Pic" scrolling Pictures (Friends):
1. Go to a friend's site.
2. Right Click their profile picture. Click "Properties" and Copy the URL (internet address) of the picture.
3. Go to your code. Paste the URL where the current "No Pic" image is in the "marquee" code.
4. Go back to your same friend's site. Copy their site's internet address in the address bar.
5. Go to your code, and paste where this - ***MYSPACE FRIEND URL HERE*** - is dsiplayed.
6. Viola! Now you're done. Just repeat these steps with the rest of the pictures.
To Change your Profile Picture
The same thing applys to this as well. Copy the URL (internet address) of the picture you want to use, and paste that where the current .jpg file is.
This is located in your second DIV layer, and it is the only picture file there!
Erase your details!
Using This Layout
For specific instructions read designer's comments
This is a div overlay layout, html knowledge required!
1. Log into myspace.com
2. Click on

Edit Profile (Profile 1.0)

3. Copy

(ctrl c)

and paste

(ctrl v)

code to the specified fields
Update Friend ID
Input Friend ID to automagically update code
Layout Code
Copy and paste to About Me
Layout Code
Copy and paste to I'd Like to Meet
Layout Code
Copy and paste to Heroes
Layout Comments
Showing latest 10 of 122 comments
I can not get the scroll friends pictures to work no matter what I do!?!?
and I cant find where to put in my picture either.
can someone help??
PLEASE.

I WUV IT!! cute and the little pic is very -pretty-
go to yoyr profile see bar
Example:
http://profile.mys pace.com/index.cfm?fuseaction= user.viewprofile&friendid=3857 44376&MyToken

the last numbers before mytokens 385744376 is your user ID
best layout ever...great job
I love this one. Can you teach me?
-Kara
Thank you for the amazing layout,
one question: I cant figure out where EXACTLY to put
"height: ##px width: ##px" in order to make my scrolling friend link pictures all the same size. I know it goes right after the picture url code, but im not sure exactly where, or if I need the quotations. please help! =]
luv it! and nice pics.
***YOUR USER ID HERE*** - use the "find" option in notepad to find it.
I'm having trouble with the pictures of your friends I can't figure out how to add my Friends to my page.. and I have no clue where ***YOUR USER ID HERE*** is.
I figured it out now I am working on the friends pics and profiles!
View all »
Layout Tags
Layout Tools
Layout Affiliates