IchiRuki Apologize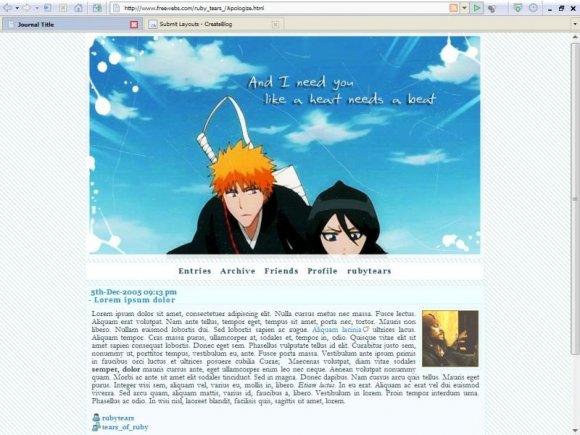 Designer's Comments
Look carefully for specific instructions
Style:
Smooth Sailing
Best view:
1024x768+
Browser(s) Compatible:
Firefox, Safari, Opera, and IE7
Credit:
tears_of_ruby in your profile please.
Work with Nav bar?:
Yes, use the css that says wnavbag.
Account types:
basic, paid, and maybe plus. Let me know.
----------------------------------------------------------------
Step 1
Go to
http://www.livejournal.com/customize/
http://www.livejournal.com/customize/
and make sure you're in S2.
Step 2
Under select a new theme tpye in the name of the style of the layout. (I tend to work with Smooth Sailing.)
Step 3
Now that you have the search results. Click on any smooth sailing layout. Other styles you might want to find one that has no style and is just a base.
Step 4
Now here comes the sidebar part. This can be very important. If the sidebar is on the wrong side your layout can look very wrong. So lets take a look at that live preview I supply. Keep an eye on what side the sidebar is on. (I tend to put them on the left alot.) Chose the page set up that best fits where the side bar is. Click apply layout. Once that;s done click on customize selected theme.
Step 5
Okay, now that you've taken care of all that. Its time to add the css codes. On the side of the page look for the link that says Custom CSS. Click it and we're on our way to Step 6.
Step 6
Okay now before you can paste in the css codes theres just a few more things we have to do.
a.) Find where it says Use layout's stylesheet(s) and make sure it says No.
b.) Now find where it says Use layout's stylesheet(s) when including custom external stylesheet and also make sure it says No.
c.) Never mind the Custom external stylesheet URL box.
d.) Go find that notepad file labeled CSS. Copy it all. Paste it into the Custom stylesheet box. Click Save Changes and enjoy the layout :)
For a verizon of this layout ment to work with LJ's Navbag, check out the post in my LJ community.
http://community.livejournal.com/tears_of_ruby/52013.html
Using This Layout
For specific instructions read designer's comments
1. Log into livejournal.com (customize)
2. Set

Style System

to

S2

3. Click on

Look and Feel

4. Set

Layout

to

Smooth Sailing

5. Click on

Custom Options

6. Click on

Custom CSS

7. Copy

(ctrl c)

and paste

(ctrl v)

code to

Custom CSS
Layout Code
Copy and paste to Custom Style Sheet
Set style to
Smooth Sailing
Layout Comments
Showing latest 4 of 4 comments
Ohhh....this is so unique!
This is really nice. :D
I really like it : D
also it DOES work with Plus accounts
Favorited
Layout Details
Layout Tools
Layout Affiliates