Here You'll Find Me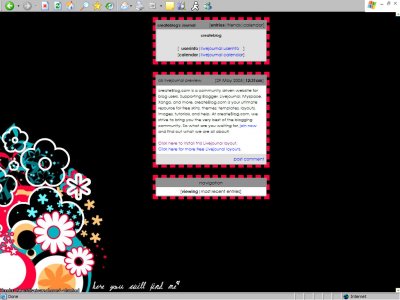 Designer's Comments
Look carefully for specific instructions
FIRST - Remember to change all your styles to "Generator"

SECOND - Choose "Custom Colors" and set the following colors:
Page background: #FFFFFF
Page text: #00B5C0
Page link: #FF003C
Page visited link: #FF003C
Page active link: #FF003C
Page emphasized text: #FF003C
Page title: #FF003C
Weak accent: #FFFFFF
Text on weak accent: #F8AE43
Strong accent: #000000
Text on strong accent: #F8AE43
Stronger accent : #FFFFFF
Text on stronger accent: #F8AE43
Using This Layout
For specific instructions read designer's comments
1. Log into livejournal.com (customize)
2. Set

Style System

to

S1

3. Click on

Look and Feel

4. Set

Layout

to

Generator

5. Set

Theme

to

Custom Colors

and remove all fields
6. Click on

Look and Feel

7. Copy

(ctrl c)

and paste

(ctrl v)

code to

Overrides
Layout Code
Copy and paste to Overrides
Layout Comments
Showing latest 10 of 34 comments
i love the background image the most. :)
i love it!
any chance it can be used for a hi5 profile?
=)
mm, my background turns on white, the ones right behind the textbox. the colours are right, and same with the code, but i don't know what's wrong.
anyone care to help this noob in LJ?
My textboxes are very small compared to the preview one and there is a advert bar on the right hand side of my journal.=((
really cute. i am gonna try and use it.
i used this layout for a while i loved it that much
is there anyway on making the txt box bigger? cause my longer posts end up being awkward to read since it's about 6 words on every line or so..help? btw..the layout is AWESOME =) EDIT:nvm got it XD =)
Hello! It is a very pretty layout, i am using it.May I ask how to make one?Thank you.
i LOVE the flowers. and it really pops on the black.except in fireforx, the journal entries and whatnot aren't like how they're supposed to be, i think it's default.
lovin' it!
View all »
Layout Details
Layout Tools
Layout Affiliates