Seach Engine Discription w/ Keywords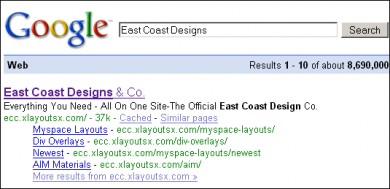 Author's Comments
Look carefully for specific instructions
How To Use:
Replace "SITE DESCRIPTION" with what you want the description of your site to be.
Where it says keyword go here put in each keyword seperate by commas.
Put this in your main index template.
Hopefully it's not too confusing if you still need help PM me
Working Preview
Click Here
Script Copyright:
IVIike
|
East Coast Co.
|
xInfiniti
Script Code
Copy and paste to HTML
Script Comments
Showing latest 9 of 9 comments
thank you! :]
thanks for the script! it works great!
but one question, is there a way to have the search engines pick up the home page instead of my contact page?
i was really hoping it would show up something like the preview.
Could we use this on MySpace,if so that would be wicked.
Is there some way that you know of that I could use this for myspace?
Thanks for this :)
how do you do the links below the description like "myspace layouts" "Div Overlay" "Newest" etc?
in your index page yes
oops typo,sorry. I meant "to".
You put it only on your index page? Where do I have o place the code, anywhere?
Script Details
| | |
| --- | --- |
| Author | IVIike |
| Submitted on | Sep 28, 2007 |
| Page views | 10,068 |
| Favorites | 15 |
| Comments | 9 |
| Reviewer | Insurmountable |
| Approved on | Sep 28, 2007 |
Script Tags