Remove the white box on your Cb layouts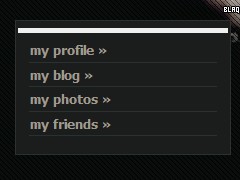 Author's Comments
Look carefully for specific instructions
With the release of the new Cb. There has been a few changes here and there to the CSS of the Profile layouts. With that change some codes didn't work and a few new friends appeared and some just won't go away.
For example that annoying white box over the profile links, is actually a border and can easily be removed with the following code.
For those still having trouble trying to remove some white boxes
Divergent
sent me a new line that might just help out. Thanks!!
Script Code
Copy and paste to HTML
Script Comments
Showing latest 4 of 4 comments
*This
Thsi is great, thank you.
Thank you! :-)
this is nice. i was wanting the original designer of my layout to reply to me but they never did on how to fix this.


you should add how to fix the rest of the boxes. i have like 3 others on my page that are white and pissing me off
Script Tags