Change The Looks Of Your Links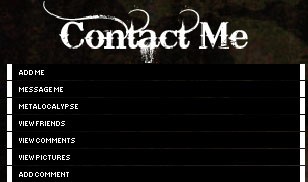 Author's Comments
Look carefully for specific instructions
1. Copy The Code Into About Me Or Who Id Like To Meet.
2. Put Your Link Where Ever You Need It.
3. Adjust the Settings To Your Liking.
4. If You Need Help Leave A Comment.
Script Code
Copy and paste to HTML
Script Comments
Showing latest 8 of 8 comments
i feel slow .. how do i use this? do i just put links after or between the paragraphs?
hey i know i've got this working in the past but i forget it now. haha.
i put a link like "home" & other links alike in the intrests section, and i've paste you're code in the "about me" section and it's not working.. help me plz!!! :) thx
how would i do this on a website page?
the "contact me" image isnt part of the code, the code is just for the link, the contact me text is jsut a picture...:]


this is great, thx alot ♥
I am pretty sure the contact image isn't part of the code...
This is nice. But uh... how did you put that image that says Contact Me above the links? I can't seem to figure it out... all the ways I know how don't work to put in that place. Contact me back about this please, I'm working on something, and I need to know how to do that.
when ever this code in the default contact table comes back
enven if i put in a code to remove/hide the default box
deffinatley a fav.!
ive been looking for this everywhere
cuz i hate the way the default contact table looks!!!