spotlight on image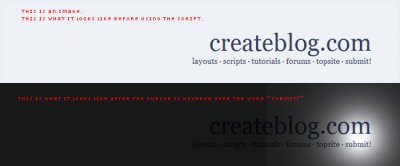 Author's Comments
Look carefully for specific instructions
The spot light follows your cursor when you hover on the image.

Add id="myimage" into the IMG tag of your image (i.e. ).

The code which says "input into website stats" SHOULD NOT go into website stats. It should go right after the IMG tag instead.In the code, you may change "the size of the spotlight" and the "the visibility percent of the picture".
Script Code
Copy and paste to HTML
Script Comments
Showing latest 5 of 5 comments
umm........im lost just by reading the instruction!!
Sikk lubb it!
can you redo your instructions?? im so lost.. plz (:
love it
Thats nifty. xD