How To Change The Way Your Text Is Set Up In A Layout.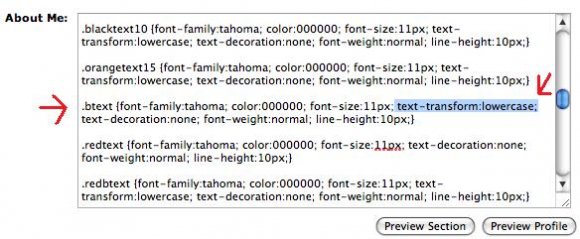 Tutorial
Click on thumbnailed images to enlarge
NOTE:
- I'm not saying that you should ruin peoples hard work; if this offends the maker of the layout, it's your choice to do it or not.

-----------------------------------

If your using a layout that makes all your text (lowercase) (UPPERCASE) or (TeXt LiKe ThIs) This code can help you get rid of that, because sometimes its kinda annoying.
Go to edit profile, and search slowly through your layouts code; stop searching when you see the words "text transform" (look at my picture above).
All you have to do is remove the words that i have highlighted in my picture.

NOTE: It may appear more the once in your layout code, so make sure that you search your WHOLE layout code and remove that in all spots; if you dont it may only change one part of your layout and the rest wont be affected.
Tutorial Comments
Showing latest 7 of 7 comments
Thank you so much for this. :)
Nice!..
It worked!..
Thx dude!..
i've try but it wont work
oh damn the code disappeared. :(
im not sure about other sites.
but for myspace to make text italic you simply:
TEXT
how do you make font italic?
Tutorial Details
| | |
| --- | --- |
| Author | IDTAPTHATFLOOR |
| Submitted on | Nov 16, 2008 |
| Page views | 12,292 |
| Favorites | 24 |
| Comments | 7 |
| Reviewer | Lariat |
| Approved on | Nov 16, 2008 |
Tutorial Tags