shut up & D R i V E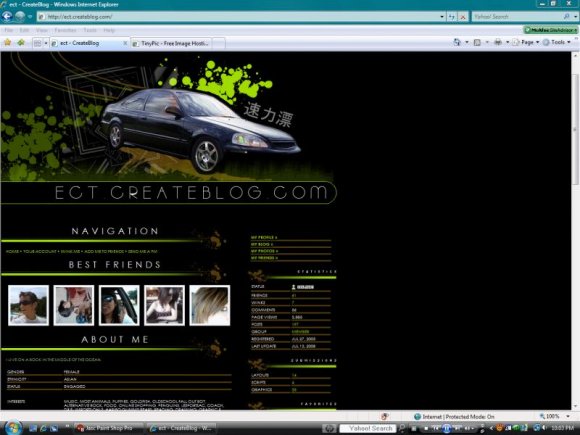 Designer's Comments
Look carefully for specific instructions
VISIT
DZYNE.COM!
FOR MORE!
I finally decided to put this layout up for use.
Idk if anybody will use it though. Don't know if anyone likes cars or this kind of thing. It's our (the bf & I) old car -- '00 Civic Si (: incase anyone was wondering.
THIS IS THE NEW BANNER:
http://i38.tinypic.com/2ynm8wh.gif
Sorry the screenshot has my banner in it :P
PLEASE READ:
• Tested in IE & Firefox
• Made for 1280 x 960 resolution
• The banner was made by me. Please don't reclaim or alter.
• There's an extra section where you can put whatever you want.
• Meant to go with the song "Glory" by Dragon Ash. My player is in the extra section. You can replace it with your own.
*PM me if you need any help.
Using This Layout
For specific instructions read designer's comments
Layout Code
Copy and paste to Header HTML
Layout Code
Copy and paste to Footer HTML
Layout Comments
Showing latest 10 of 10 comments
nice
it's cutee.
but you could of use a nice honda.
:]

hondas are the shittt.
i just put a turbo and a whole new intake, full three inch exhaust in my ex's '95. it STILL only got 140hp on the turbo/170hp on the street LOL. i'd take my 10 second camaro over either any day ;o)
i like everything but o dont like the car...
I love the colors, but im not a fan of that song.
Extremely creative. Great job, wowowowowowow!
that HONDA is REALLY OLD~!, i mean its younger then my moms...
hondaaaa. :] i really like that banner and the headers too.
This looks great. I love the headers. :)
Layout Tools
Layout Affiliates