Adapted Greying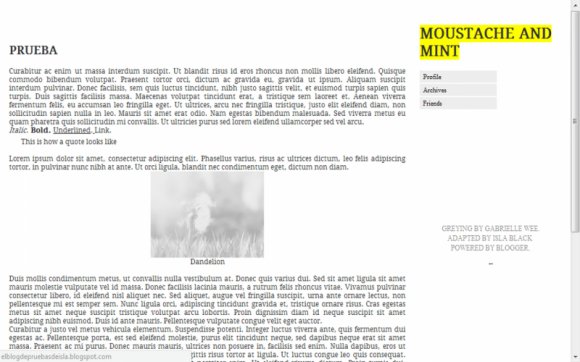 Designer's Comments
Look carefully for specific instructions
The original Greying theme was made by Gabrielle Wee, to be used on tumblr. You can see it here.
Keep the entire credits, please.
Using This Layout
For specific instructions read designer's comments
1. Log into blogger.com
2. Click on

Template

3. Copy

(ctrl c)

and paste

(ctrl v)

code to

EDIT HTML
Layout Code
Copy and paste to Template
Layout Comments
Showing latest 10 of 18 comments
Again, parsing errors are occurring with this layout on Blogger. Is anyone else having problems using this layout on Blogger. I've run into these problems with 3 of these most recent blogger layouts thus far?
CAN SOMEONE PLEASE HELP THIS WEBSITE COME BACK ALIVE?!?@@ I AM BEGGING YOU! I MISS THIS PLACE AND THE COMMUNITY WAS FANTASTIC! PLEASE MODS CAN YOU ATLEAST GIVE THE SITE TO SOMEONE WHO IS WILLING TO MAINTAIN IT AND ALLOW PEOPLE THE AMAZING SERVICE THIS SITE BROUGHT?! THIS BEAUTIFUL PLACE IS GOING TO WASTE AND IS BEING TAKEN OVER BY STUPID BOTS!!!! :((((
Thank you `
I don't understand, I can't find "Edit HTML" under Template.. Someone help?

23 Read and Understood,Thank author sharing,This article is very well written. If you want to know about the karen millen words please give me a message.
jianan9 erreway
The original Greying theme was made by Gabrielle Wee, to be used on tumblr.

regards:chinavibrat ingscreen




BLOG TITLE








#navbar -iframe {
height:0px;
visibility:hid den;
display:none
}
body {
background: #ffffff url('none');
font-family: "Droid Serif";
font-size: 11px;
color: #343434;
-webkit-text-strok e: 1px transparent;
-moz-text-stro ke: 1px transparent;
-o-text-stroke : 1px transparent;
text-stroke: 1px transparent;
word-wrap: break-word;
}

a, a:link, a:active, a:visited {
color: #343434;
text-decoration: none!important;
-webkit-tra nsition: color 1.5s linear;
-moz-transition: color 1.5s linear;
-o-transition: color 1.5s linear;
transition: color 1.5s linear;
}
a:hover {
color: #343434;
background: #ffff00;
-webkit-transition : color .1s linear;
-moz-transition: color .1s linear;
-o-transition: color .1s linear;
transition: color .1s linear;
}
img, a img {
border: 0;
opacity: 0.5;
filter: alpha(opacity=50);
-webkit- transition: opacity 1.5s linear;
-moz-transition: opacity 1.5s linear;
-o-transition: opacity 1.5s linear;
transition: opacity 1.5s linear;
}
img:hover, a:hover img {
background: none!important;
opacity: 1;
filter: alpha(opacity=100);
-webkit -transition: opacity .1s linear;
-moz-transition: opacity 1.5s linear;
-o-transition: opacity .1s linear;
transition: opacity .1s linear;
}
blockquote {
margin: 5px 0 0 11px;
padding-left: 10px;
border-left: 20px;
}
blockquote img, blockquote a img {
max-width: 490px;
}
p {
padding-top: 5px;
}
ol, ul {
padding: 5px 0 0 25px;
}

ol {
list-style-type: decimal;
}
blockquote p:first-child, blockquote ul:first-child, blockquote ol:first-child, .body p:first-child, .body ul:first-child, .body ol:first-child {
padding-top: 0;
}
ul ul, ul ol, ol ol, ol ul {
padding-bottom: 5px;
}
blockquote p:first-child, blockquote ul:first-child, blockquote ol:first-child {
padding-top: 0;
}

#container {
margin: auto;
padding: 0px;
}
#content {
margin: 0 auto 25px;
width: 975px;
height: 100%;
padding: 0;
}

h1, h2, h1 a, h2 a {
font-family: "Droid Serif";
font-weight: bold;
text-transform: uppercase;
text-decoration: none;
}
h1, h1 a {
font-size: 25px;
color: #343434!;
}
h2 {
font-size: 20px;
}
h3 {
font: italic bold 17px "Droid Serif";
}

h4 {
font-size: 12px;
font-family: "Droid Serif";
padding: 5px;
background: #eeeeee;
}
h4 a {
background: #eeeeee;
}
h4 a:hover {
background: #ffff00;
}

#sidebar {

position: fixed;
margin-left: 725px;
width: 250px;
float: right;
}


input {
margin-top: 8px;
padding: 2px 4px;
width: 100%;
border: 0;
background: #eeeeee;
font: 11px Helvetica;
color: #343434;
-webkit-text-strok e: 1px transparent;
-moz-text-stro ke: 1px transparent;
-o-text-stroke : 1px transparent;
text-stroke: 1px transparent;
}


#pages {
margin-left: -2px;
padding: 0;
list-style-type: none;
}


.page {
font-weight: bold;
}

#pag {
margin-top: 8px; text-align: center;
}

#current, #pag a {
padding: 0 2px;
}

.results {
margin-bottom: 15px;
text-align: center;
}

.results h3, .results a {
color: #909090;
font-size: 15px!important;
}

.post {
margin-bottom: 25px;
}


.date {
margin-top: 5px;
text-transform: uppercase;
}
.date, .date a, #pag, #current, #pag .center a {
font: 10px "Droid Serif";;
color: #343434;
text-transform: uppercase;
text-decoration: none;
}
.date a:hover, #pag a:hover, #footer a:hover {
color: #343434;
}
#comments {
margin-top: 25px;
}
#comments ol {
padding: 0;
list-style-type: none;
}
#comments li {
margin-bottom: 10px;
}

#main {
width: 700px;
position: absolute;
font: 12px "Droid Serif";
text-align: justify;
padding-bottom:25px;
padding-top: 30px;
}

left: 48%;
width: 32px;
padding: 10px;
font-size: 15px;
z-index: 99999;
background: white;
background: hsla( 0, 0%, 100%, 0.9 );
text-align: center;
text-transform: uppercase;
}

#footer {
text-align: center;
margin-top: 8px;
}
#footer p {
padding-top: 3px!important;
}
#footer, #footer a {
font: 12px "Droid-Serif";
color: #909090;
text-transform: uppercase;
text-decoration: none;
}













COMMENTS


Written on at
by











Profile
Archive s
Friends









Write something nice about you.

Couple links will do.

link1 & link2 & link3











friend friend friend friend friend
friend friend friend friend




Greying by Gabrielle Wee.
Adapted by Isla Black
Powered by Blogger.



←
→




















Seamless pipes, Seamless tubes, Alloy seamless pipes, Cold draw seamless tube, Hot rolled seamless pipes
View all »
Layout Details
| | |
| --- | --- |
| Designer | IslaBlack |
| Submitted on | Dec 11, 2011 |
| Page views | 138,318 |
| Favorites | 31 |
| Comments | 18 |
| Reviewer | manny-the-dino |
| Approved on | Dec 21, 2011 |
Layout Tags
Layout Tools
Layout Affiliates