Storm Blog Twilight 2 (forest)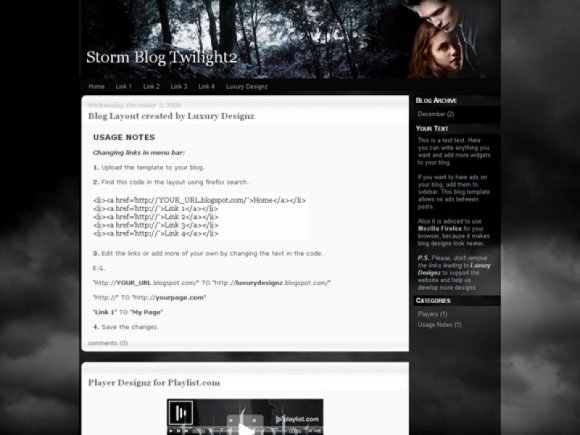 Designer's Comments
Look carefully for specific instructions
MADE BY
Coverday
- IMPORTANT!!! -
If the layout preview does NOT look the same as on the photo, try uploading it to YOUR blog to check how it really would appear, or see live preview
HERE
- USAGE NOTES -
Changing links in menu bar:
1. Upload/Paste the template to your blog.
2. Find this code in the layout using Firefox search (without spaces between ">")
< li >< a href='http://YOUR_URL.blogspot.com/' > Home < /a >< /li >
< li >< a href='http://' > Link 1 < /a > < /li >
< li > < a href='http://' > Link 2 < /a > < /li >
< li > < a href='http://' > Link 3 < /a > < /li >
< li > < a href='http://' > Link 4 < /a > < /li >
3. Edit the links or add more of your own by changing the text in the code.
E.G.
"http://YOUR_URL.blogspot.com/" TO "http://coverday.blogspot.com/"
"http://" TO "http://yourpage.com"
"Link 1" TO "My Page"
4. Save the changes.
Using This Layout
For specific instructions read designer's comments
1. Log into blogger.com
2. Click on

Layout

3. Click on

Edit HTML

4. Copy

(ctrl c)

and paste

(ctrl v)

code to

Template
Layout Code
Copy and paste to Template
Layout Comments
Showing latest 4 of 4 comments
@britjflax

P.P.S. Lol. I just checked your blog on Blogspot. Looks like you're using the old version of blogger. Classic, I think. You should switch to the new one to make the template work. So I guess it's not the code, after all. :D
@britjflax

Oh, and P.S.

Try uploading in different browsers. Sometimes they could be tricky. Try Mozilla Firefox (my fav.) and Internet Explorer. If it doesn't work with one browser, it might work with the other.
Ok, first... This is the first time I hear anything about some "layout sign". Really, I never got that error. Second... Maybe you should try uploading it twice? It works fine for me, so I doubt anything is wrong with the code, but sometimes when the error is formatting I just click "Upload" again, right after I get the error and it uploads.

If nothing works, maybe you should try getting the code from here instead: http://luxurydesignz.blog spot.com/2008/12/storm-blog-tw ilight2-forest-blogger.html

It goes without Create Blog's formatting, so maybe it'll work better for you.
Hi on blogger when I do your instructions it wont let me use this layout! It says because the layouts sign. It also says its not formatted correctly! Now I'm not the greatest with html and all but If you could maybe fix it I would TOTALLY use it! :]
Layout Details
| | |
| --- | --- |
| Designer | LyssaAlex |
| Submitted on | Dec 11, 2008 |
| Page views | 16,929 |
| Favorites | 16 |
| Comments | 4 |
| Reviewer | manny-the-dino |
| Approved on | Dec 11, 2008 |
Layout Tags
celebrities
,
emotions
,
fantasy
,
love
,
movies
,
nature
,
seasonal
,
storm
,
clouds
,
dark
,
twilight
,
edward cullen
,
bella swan
,
bluish
Layout Tools
Layout Affiliates