Just a girl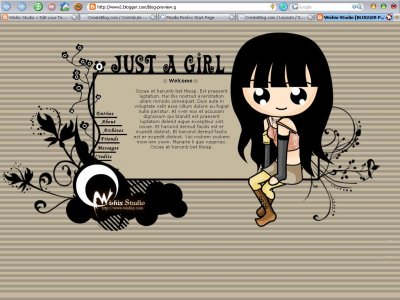 Designer's Comments
Look carefully for specific instructions
Character, and almost all the design are drawn by me. (1 or 2 brushes use for the floral). This design is mainly for girls, because of the title XD. If guys are interested in something like this, perharps change the character to a guy and a slightly different layout, feel free to let me know. If alot ppl wan, I might just come out with 1 soon ^^.

Tested in FF and IE.
Comments and feedback are welcome :D
Using This Layout
For specific instructions read designer's comments
1. Log into blogger.com
2. Click on

Template

3. Copy

(ctrl c)

and paste

(ctrl v)

code to

EDIT HTML
Layout Code
Copy and paste to Template
Layout Comments
Showing latest 10 of 44 comments
how to change it into my characters??
why i cannot use all the layouts....there is xml error...what is det???
i would like to use this layout, but it doesn't work, can somebody tell me how? thx...
How did you make your layouts all flash? You know the menu and buttons. Do you know where I can make mine for free and what software/program/website you use tomake your menu or buttons. Can you please teach me the code for menu and buttons. It will be great if you give me the name of the HTML/Javascript so I can look it up. Thanks
mine didn't work..it said something about XML ERRORS and STRING "--" WITHIN comments.. can you please help me?? oh,,please..!!
i really love this layout,dear! :'(
I love this layout...it's what m using now...more power...
...Wow. :O I wish I could make layouts like that. This is definitely one of my favourites. ♥

It doesn't seem to work though. :s Something about a xml error + string? D: Help me?
its pretty cute. i like make it as my template but unsuccessfull, got some error. how could i get it? help me plzzz
yea .. it's work... in create blog thanks for sharing ya~
this layout is sooooo cool! =) aucifer, can u teach me how 2 make a layout? pretty pretty pls? it's ok if u dun want 2. i love this layout alot! it looks absoloutely perfect on my blog. anyway, 2 those hu have errors, this is a classic layout. so u have 2 change it 2 Classic @ the bottom of the pg first be4 u can use it.
View all »
Layout Details
Layout Tools
Layout Affiliates