iPod DIV base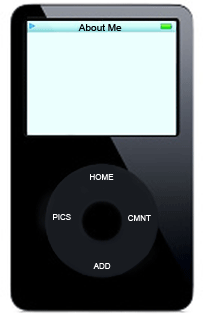 Designer's Comments
Look carefully for specific instructions
Please use this graphic to create your own myspace DIV layout.

You'll have to create an image map for the click wheel words (home, cmnt, pics, add).
Using This Graphic
Copy and paste one of the code below
Graphic Comments
Showing latest 8 of 8 comments
im gonna use this for a layout!! thx bunchess
i wish i knew how to make a text box. that weould help bunches. i'll check up on tutorials.
aw man, i wanted this ipod.
but i got the new black nano instead.

haha.
i dont have adobe imageready because i have a mac!
is there any other way i can create a code or any other code i can use nd then just put in my myspace id?
i love this it is so realistic but how do you make an image map for the click wheel words
please comment back or help me!!
Hey Making a Layout for It:)
o.O I don't... know. It's very easy when you have Photoshop CS2. By the way everyone, please feel free to use this to create your own DIV's. For MySpace.
That is just pure awesome! Omgosh! How can you even make such a realistic-looking thing on Photoshop!?..Or whatever you use. O_O It's just mindboggling! Nice job! And I'm going to be using it.
Graphic Details