Taking Screenshots.
Tutorial
Click on thumbnailed images to enlarge
**NOTE**
I did this tutorial in Photoshop CS3 Extended which is why some of you

may

have problems. However, that

doesn't

mean this tutorial won't work in other versions of Photoshop. Just try it out.
Want to learn how to take screenshots? Well you've clicked on the right tutorial, my love. Here's the before: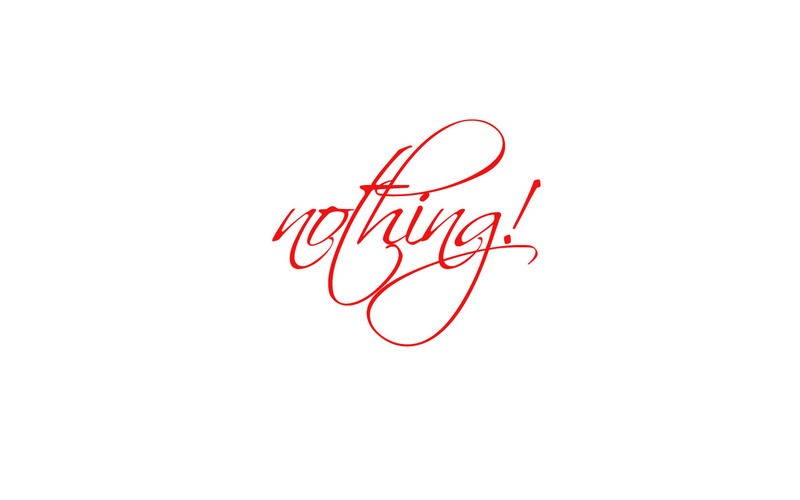 Here's the after: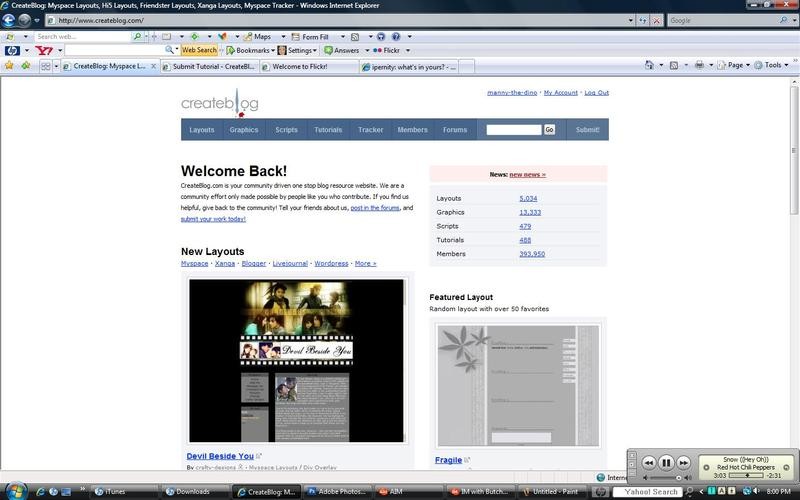 Begin!
001.First, be where you want the screenshot to take place. Like for my example, I am doing CB's homepage.

002.Now on your keyboard, locate a button titled "Prt Scr". Bet you never notived that button, huh? That's the button you're going to be pressing to take your screenshot. If you have a laptop, taking a screenshot may be different. If you have a "Function" button, you have to press that button first & then the "Prt Scr" button. The "function" button is located right next to your "crtl" button on the bottom left side of your keyboard. It should be titled "FN," if I remember correctly.

003.When you're ready, press the button. Oh yeah, your cursor will not appear in your screenshot, fyi.

004.Now once you have your screenshot, open up Photoshop or MS Paint. Personally I like using Paint better but I'll show you how to use both programs.

005.For Photoshop, open it & do a ctrl+n to make a new document. Don't worry about the size of the document because PS should automatically have the size for you once you have just taken a screenshot. Do a ctrl+v to paste your screenshot & there you have it!
:)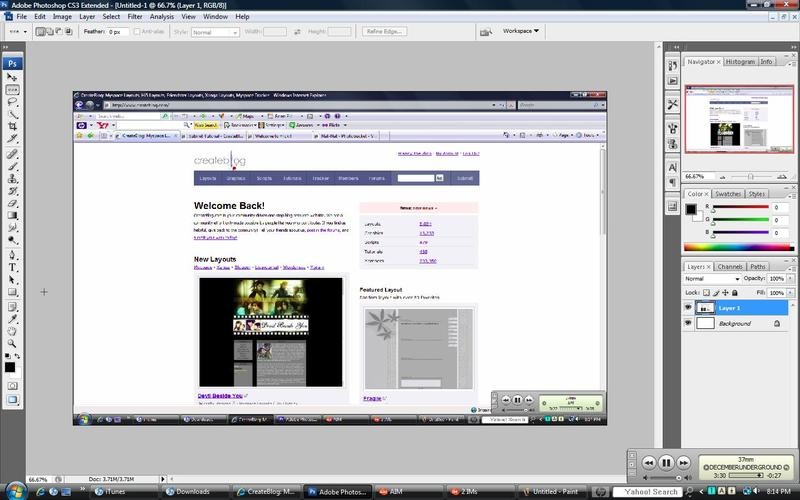 006.For Paint, open it up & just do a ctrl+v to paste it. Save it & you're done.
:)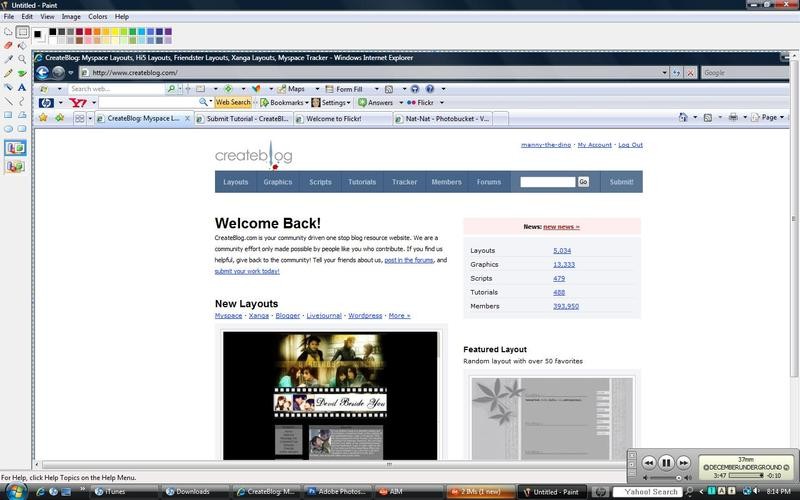 Easy huh? Now you know how to take those infamous screenshots. If you got lost or have any questions, comment the tutotial & I'll get back to you as soon as I can. :D
Tutorial Comments
Showing latest 10 of 26 comments
I'm sorry, I meant to say I submitted the 'screenshot'.
Okay I'm still trying. I've tried everything. F11, everything. I've submitted the layout in fullscreen, widescreen, and every other 'screen'. And it's been going on 1 week of this now. Let me ask this: Does this site only accept submissions of layouts created only in Photoshop & Paintshop Pro? I ask this because I've noticed that every tutorial (even this one) is directed towards Photoshop (or Paintshop Pro). Now, I've made my layout using Gimp 2.6. Maybe that's why I'm unable to submit it. Maybe the site only considers materials made with Photoshop. That's the only thing I can think of at this point as to why the Layout Submissions Page keeps 'spitting it back out', so to speak, every time I push the 'submit' button (which has been MANY times now).
Okay, I missed this tutorial but I favored it and I'm soooo glad it's up here. Whew! It was like I couldn't get the right size either and it was getting to the point where trying to upload was harder then making the actual layout for me.
"Screenshot must be in 4:3 ratio or widescreen"

Say what? LOL Help..
thank yew so much =D
please PLEASE tell me how to make my screenshot either 4:3 ratio or widescreen..i been tryna figure it out for hours literally..
uummm i dont know how to do that. its not letting me

>.< I've been doing screenshots for forever for this site! I tried to upload today, and it isn't working?? :( I tried a PNG and JPEG... neither works for me... site tweak? eh?
thanks a lot.
(:
I was trying to upload a layout onto here but I can't figure out how to get the screenshot to be the right size. It keeps telling me that it has to be a 4:3 ratio or widescreen. What does that mean? And how do I fix it?
View all »
Tutorial Tags