Tutorial
Click on thumbnailed images to enlarge
First, you will need any image. For a practice, you can use the one below.

(Simply right click, and save. Our you can right click, copy, and go to edit; paste as new image.)
Secondly, you need to click on text, just as you normally would. Type anything at all. Then instead of hitting "ok" click on "transform to selection". It should look like this: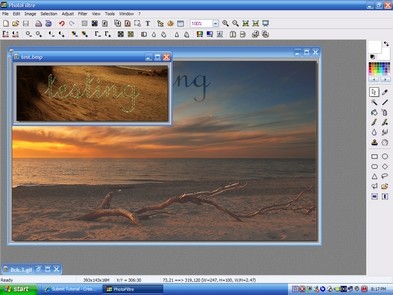 Then go up to Selection; Invert. Now right click and push "stroke and fill". Now you should see a screen showing stroke and fill options. Uncheck stroke, and check on fill. Then set the color as white and the style as normal. Leave the fill pattern unchecked. Set the opacity to 25% or somewhere in that general area.
This is what your finished product should look like:

I hope that helps!
Tutorial Comments
Showing latest 7 of 7 comments
Guyss this is so qreat (:
But I have a question ;
Whats the name of the font you used for the word 'testinq' ?
whoo hoo it helped. =]
thanks for the comments!
i have gotten plenty of requests for more tutorials.
my computer currently got a virus, so i lost photofiltre for the moment.
the second i get it back, more tutorials are going up!

thanks again everyone. :D
oh you should def.
do more cuz i just got
photofiltre and your tutorial
was sooo goood
=]
you should defiantly make more!
esp for stuff that not many ppl know how to do, that would so great!
Thats awsome, thanks :] you should make more photfiltre tutorials :)
thxx this helped alot =]
Tutorial Details
| | |
| --- | --- |
| Author | KamiO |
| Submitted on | Nov 10, 2007 |
| Page views | 20,052 |
| Favorites | 32 |
| Comments | 7 |
| Reviewer | tripvertigo |
| Approved on | Nov 10, 2007 |
Tutorial Tags