Making text flash. Gimp 2.4+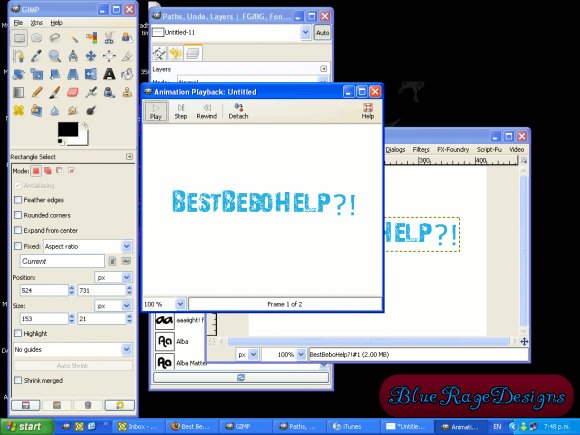 Tutorial
Click on thumbnailed images to enlarge
Today class, we are learning to create flashing text.
Step One:
First, open your image.
I've used a blank canvas.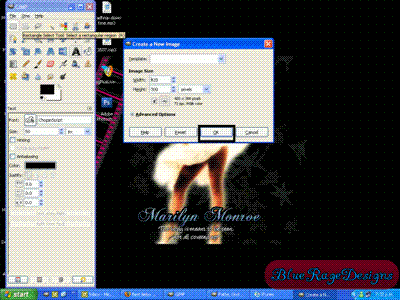 Step Two:
Ok, well I assume we all know how to put text on the page.
(If not, email me: Blueragedesigns@gmail.com )
Hopefully you have the layers dialog open (IF NOT > go to Dialogs > Create new Dock then press "layers, channels, path")
Right click on the text layer and select "Duplicate layer"
You will need to do this a number of times if you want more then 2 colors to flash. then just repeat the next few steps for each layer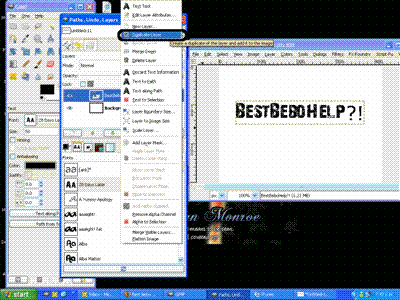 Step Three:
To change the color of the text (Other wise it won't flash) make sure the duplicated layer is selected (It'll be the top layer)
And make sure the "Text tool" is still active. To make sure you're changing the color of that layer, Click somewhere inside the image where the text is.
When you've made sure you've got that selected Press the color button in the text dialog, a pop up will appear asking what color, Make your choice.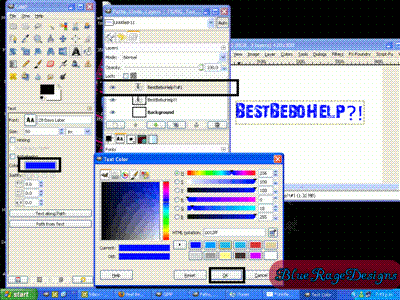 Step Four:
Now select the very first layer above the "background" layer, and RIGHT click it, Selected "merge down"
NOTICE: This is up the TOP. Its VERY different from "Merge visible layers" DON'T select Merge visible layers if you want text to flash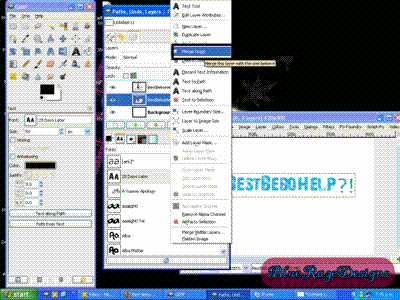 Step Five:
Next, go to your image and right click anywhere in the image, find "Animation > Playback"
A window should pop up
This is just to check that your image DOES flash, its not a necessity.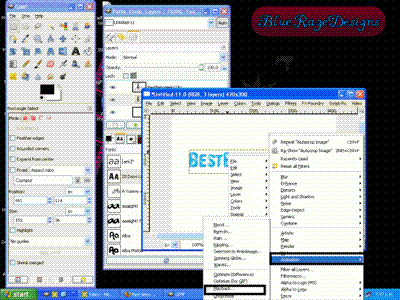 Step Six:
If you did the animation step this box should appear, press "play" up the top if its not already playing.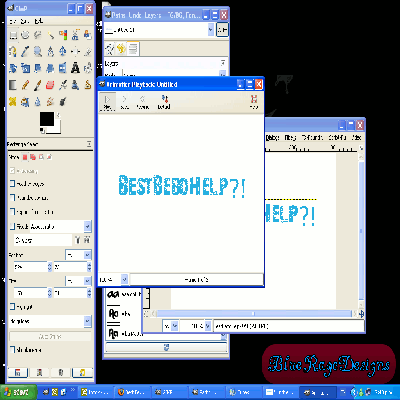 Next press the x button on this window to close the window.
Next save the image as .GIF
Hope this helped you guys out.
If not, comment and leave your email and I'll get back to ya. :D
Tutorial Comments
Showing latest 10 of 11 comments
thank u
Thank you so much! This is exactly what I needed!
hey.this is a great tutorial..how do i save it because it does not have a screen to do that..i wanted to put it on my myspace
when i right click on the image,animation isn't an option 2(im using 2.6.6)
pls help me -_-
Great Job!
@ the last comment, you need to go "filters -> animation"
When i right click the image animation isnt an option...
@ The first comment, you save it as .gif
you are on the image, and you go file > save as > chose where to save it, and type the file name "Bob" then type ".gif" without the quotation marks of course. :D
Hmm I am not sure where you are going wrong, or what is happening. I am sorry I can't help out.



@ the second question, The title is miss labled. My bad. But it should be pretty similer. What can;t you do? What tools don't you have?
I got everything to work except two things =( I can't save it.Well,I don't know how.I just got GIMP.I looked here http://docs.gimp.org/en/gimp-i mages-out.html but it's too confusing.And the other thing is Step Four: Now select the very first layer above the "background" layer, and RIGHT click it, Selected "merge down". I can't do that either=( The rest worked.It flashed and everything when I pushed play.
this is so cool but i seem to not be able to do it:/
i have gimp 2.6.3 &it doesn't have the same tools.
can yu help?

View all »
Tutorial Tags