How to make a pop art effect
Tutorial
Click on thumbnailed images to enlarge
This tutorial will show you how to make a pop art effect! Its just 5 steps! =D
Ok, so lets begin.
1. First open up a picture that you want to transform into a pop art picture.
I'm using the lovely Jonas brothers.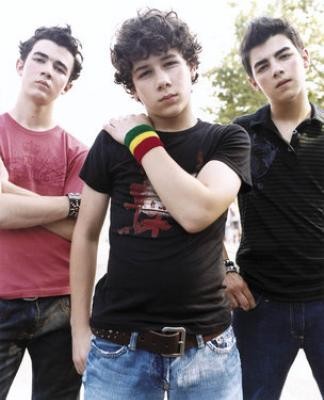 2. Now resize the image into 4 squares. For example: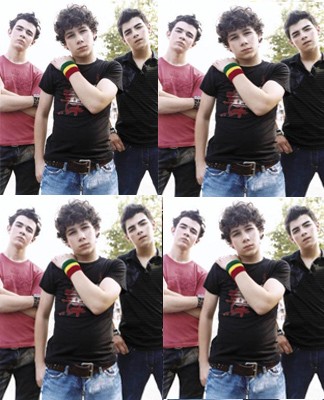 3. Now click on one of your images. .. Now click Filter >> Artistic >> Poster Edges. (make sure the edge thickness, edge intensity, and posterization are 0).
This is what I have now
: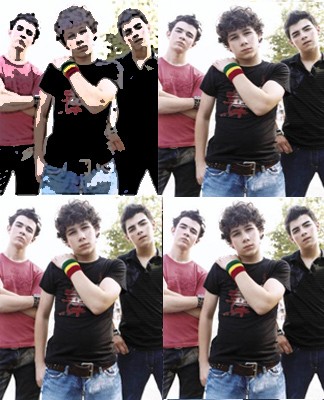 4. Now choose two colors you want on your first pop art picture. I'm choosing #ff5a00 and #6868f5. Now click on Filter >> Artistic >> Neon Glow.
I have this: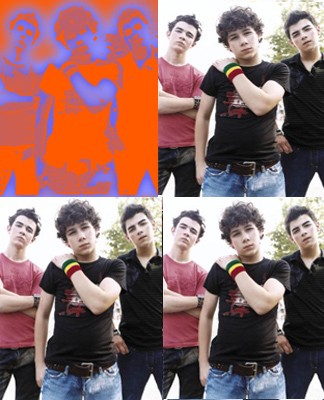 5. Now just repeat those steps! Then you have a pop art effect! :) This is my final picture: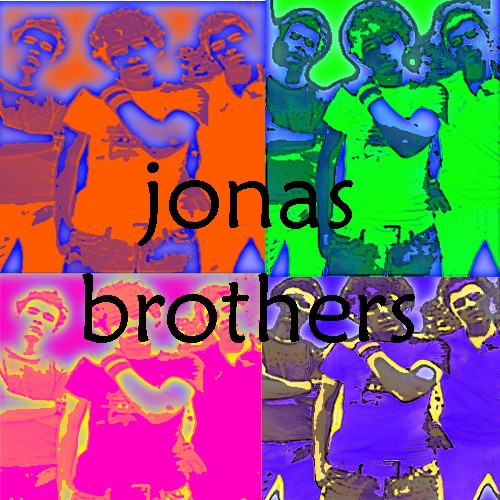 Hope this helped! =)
Tutorial Comments
Showing latest 10 of 18 comments
Hah, they were so YOUNG!!
Lol, well, I
I love this! and yup, this is pop art effect! people are being so mean, you don't need to insult a person like that! Anyway, great job!
Ahww people are rude.
>=|
Great tutorialll(;
hehehe jonas brothers i love them
this is awsesome
yeah iit is if u dont think its pop art then dont use the fucking tutorial
That's not pop art

i thought this said a "pop tart effect" so i clicked on it. but anyways its a great tutorial :D
i hate the jonas brothers because there spoiled girls :D but nice tutorial
I'm really sorry but this is just really ugly, you have the whole idea right and everything you're just not using the right things. Try using Gradient Map and Threshold together, im pretty sure that will do the trick.
Hi =D innocentgirl09: Take the rectangle Marquee tool and select the image, then copy it and then paste it. Then there should be a selection over the pasted image, then just resize it by clicking on the little square around it and just resize it. :] sorry if this sounds a bit confusing :P ^_^
View all »
Tutorial Details
| | |
| --- | --- |
| Author | SazzyGrl12 |
| Submitted on | Dec 14, 2007 |
| Page views | 19,538 |
| Favorites | 40 |
| Comments | 18 |
| Reviewer | IVIike |
| Approved on | Dec 17, 2007 |