Radio Face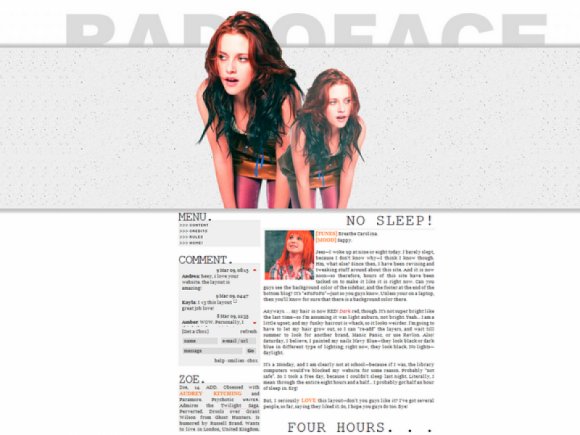 Affiliate Description
A brief description of the affiliate website
Radio Face was invented by a band called I Hate Sally from their album HIS vs. GFK. Their album cover obviously had a robot for a face, and well I noticed that I was listening to them while thinking about finding a picture of a robot face. So, there came along a few odd pairings. I was going to use 'Robot' somewhere, but it obviously was unoriginally in almost every site – but also, I knew I LOVE the radio, so that is where 'Radio' comes in. Face, is just obviously like their album cover. That is where Radio Face originated from.

Radio Face was made and given life to on July first of 2008. Since then Radio Face has continued to own her corner of the Internet block since then, and hopes to continue doing that until otherwise.

Radio Face is now following a theme of music, since that's what the majority of the name, or whole name represents. Since musicians have faces, and most of them are in the music world and get featured on the radio – then… there is a theme going on. Radio Face is mostly to have Paramore, the alternative/pop/regional Mexico as her theme.

Affiliate Comments
No comments yet. Be the first one to comment!
Affiliate Details
| | |
| --- | --- |
| Site owner | Radio-Face |
| Submitted on | Jan 10, 2009 |
| Last activity | Dec 8, 8:08am |
| Uniques in | 6,448 |
| Uniques out | 1,718 |
| Comments | 0 |