Gackt.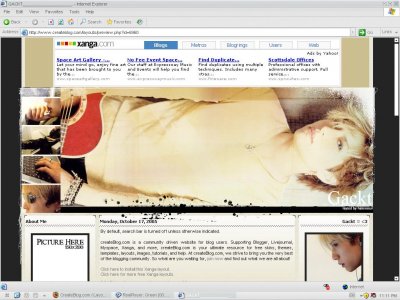 Using This Layout
For specific instructions read designer's comments
1. Disable Xanga themes

(edit theme -> uncheck make this your active theme -> save)

2. Log into xanga.com (look & feel)
3. Copy

(ctrl c)

and paste

(ctrl v)

code to the specified fields
Layout Code
Copy and paste to Header HTML
Layout Comments
Showing latest 10 of 16 comments
a very nice layout with 3 colunms :D
Actually, oops, it's the entire top portion that needs ro be moved.
How do I make it align properly? The left sidebar is cutting into the center... I tried to fix it but only made it worse, and had to go back to the original... Otherwise, I love it!
I really like this Xanga layout...to bad it's not working for me u_u
REAG;DDFG;DHFC; Oh my gosh. I'm with the rest of this thread... THANK YOU FOR MAKING A GAKT LAYOUT.
my goodness gackt is hot!!! nice layout!
oml! its gackt!!good lay :0
I LOVE HIM! and I LOVE YOU for making this 1st Gackt layout... The layout is absolutely magnificent i tell you, and i love the colors!
Ack. Here's the picture I was using. Sorry for the inconvenience.http://img326.imageshack.us/img326/7122/xx3hd.jpg
paopuu do u have da pic u of gackt u where gonna use on this?if u do could u send it to me so i can switch it out??
View all »
Layout Tools
Layout Affiliates