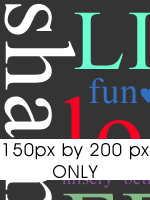 About this layout:
This layout, I've worked on the image for an estimated three hours. The text wasn't hard to put together, the links were actually the hard part. I had to tilt my head like insane every few seconds to make sure the positioning was correct. The stripes also took a while. I had to copy and paste little parts so the stripes wouldn't look distorted. This is actually the most work I've done in a while, and I'm proud of myself. :] I had to put a stupid little copyright, right there on the "H" of 'hate', because- well, just in case right? =] While sucking on this, I'm sucking hard on a candy cane. Happy holidays guys. You have about 414 px of space to write, so, SHORT AND SWEET BABES♥.
RULES:
01-Use ctrl + F or File>> Find... to find username. Change that to your username, and your's ONLY! If you make a spelling error, most of the links won't work!
o2-Change the image to an image of ONLY 150 pixels by 200 pixels.
o3-Find USERID and replace that with your user id. You can find that by going to your own subprofile and highlighting the number at the very end of the address bar.
04-If you have NO submissions in any of the catagories, just add your user name and it will tell people you have not submitted anything yet.