Pastel Smash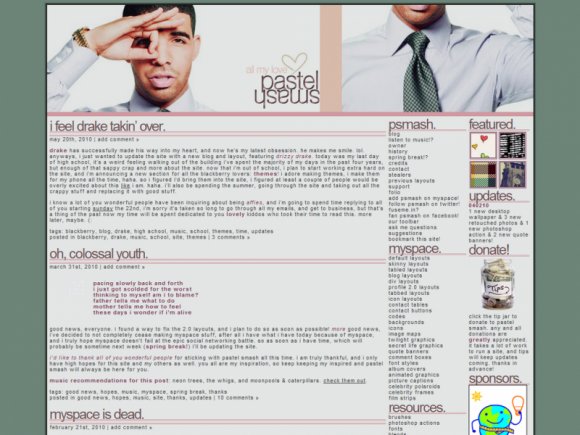 Affiliate Description
A brief description of the affiliate website
pastel smash contains myspace layouts, default, skinny, tabled, icon, div layouts. website resources, website layouts, tutorials, graphics, and much more!!
Affiliate Comments
Showing latest 3 of 3 comments
This is a really good site, I don't know what else to say. Using one of their premade web layouts. Realllly like it.
I love the layout. :$
Drake is so beautiful it's ridiculous.
the silk bedding and uphostery fabric ,the trend and fashion in the world
Affiliate Details
| | |
| --- | --- |
| Site owner | mysnapp |
| Submitted on | Jul 20, 2009 |
| Last activity | Oct 5, 6:59pm |
| Uniques in | 1,309 |
| Uniques out | 4,662 |
| Comments | 3 |