Make a "Double Image."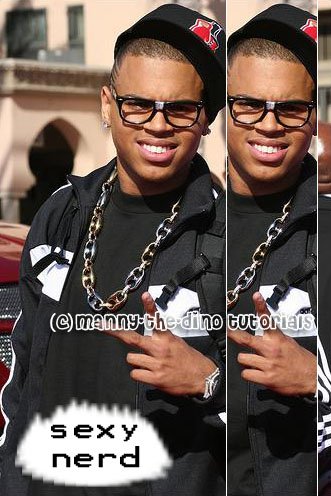 Tutorial
Click on thumbnailed images to enlarge
**NOTE**
I did this tutorial in Photoshop CS3 Extended which is why some of you

may

have problems. However, that

doesn't

mean this tutorial won't work in other versions of Photoshop. Just try it out.
Want to do a trippy effect? Well I will teach you an effect I like to call a "double image." Weird name, yeah I know, but bare with me!
"D
Chris Brown will be my subject this time. His voice is amazing! Okay well here's the before: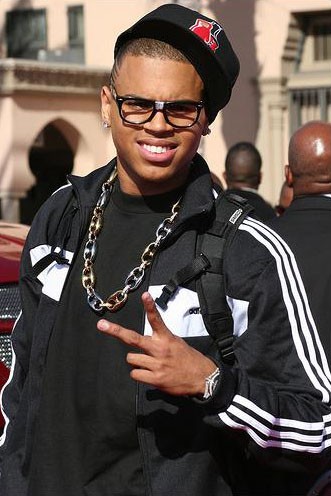 Here's the after:
Begin!
001.Open your picture, love.
002.Select your Rectangular Marquee Tool (M).
003.Make a selection on the area you want to "double."
004.Do a ctrl+c, ctrl+v & move the newly pasted area to the side using your Move Tool (V).
005.Now select your Pencil Tool (B).
006.Make 2 lines in white or whatever color you desire around the "doubled" part.
007.Add some brushes & text & you're done!
")
If you got lost or have any questions, comment the tutotial & I'll get back to you as soon as I can. :D
Tutorial Comments
Showing latest 9 of 9 comments
grr everytime i do ctrl c + ctrl v and move its white
For Number 6 its best if you zoom in to draw the line :P
used thnkxz!
on the pencil thing, hit shift while you click and drag. you'll get a straight line.
I just used the "stroke" blending option instead of using the pencil. because i didn't get how to use the pencil step either. lol.
ooh to see what i did with your tutorial go to my page and look for the pic of my daughter mia!! awwwww!
yeah im with heartbraker..the pencil thing, i tried to do it freehand but it kinda sucked..lol ok it REALLY SUCKED!! so i ended up making something else without the lines..im sooo gonna go write down the steps i did..cause i know imma forget :/
lol
thanks for the tut anyway, oh yeah and tell me how you did the line so perfectly derecho!! lol
How do I move on step 4?
I don't get the pencil thing. Do you draw or what? :/
Tutorial Details
| | |
| --- | --- |
| Author | manny-the-dino |
| Submitted on | Jan 23, 2008 |
| Page views | 43,587 |
| Favorites | 123 |
| Comments | 9 |
| Reviewer | libertie |
| Approved on | Jan 23, 2008 |