Give Your Photos a Comic Book Effect.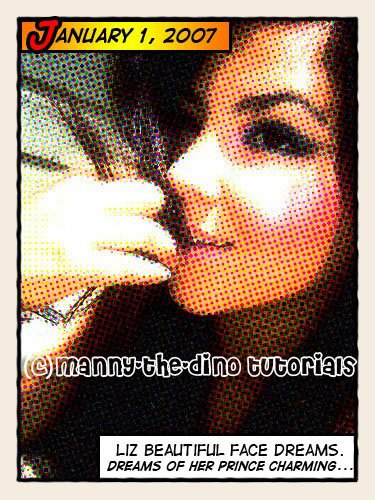 Tutorial
Click on thumbnailed images to enlarge
**NOTE**
I did this tutorial in Photoshop CS3 Extended which is why some of you

may

have problems. However, that

doesn't

mean this tutorial won't work in other versions of Photoshop. Just try it out.
Just finished reading your old comic books? Have the urge to make a comic book version of yourself? Well here you go. Yet another tutorial. I will be using a picture of some gorgeous girl I found online. Here's the before: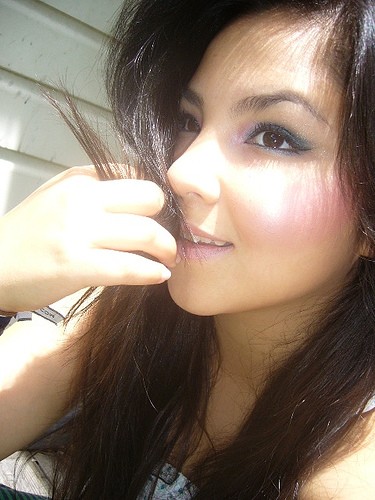 Here's the after:
To designing!
001.First, open the picture you'd like to apply the effect on.
002.Next go Image>Adjustments>Levels.
003.Enter the following values:
INPUT LEVELS:
60/1.00/240
004.Now go Filter>Artistic>Film Grain.
005.Enter the following settings:
Grain: 4
Highlight Area: 0
Intensity: 10
006.Do a ctrl+j & rename your layer "Halftone".
007.With your "Halftone" layer selected, go Filter>Pixelate>Color Halftone.
008.Set your maximum radius to 4.
009.Change your "Halftone" layer's blend mode to "Darken".
010.Double click on your "Halftone" layer, go to the Stroke section & apply the following settings:
Width: 20px
Position: Inside
Color: #F5ECE1
011.Now create a new layer.
012.Choose your Rectangular Maruqee Tool (M).
013.Make a selection at the top left corner of your picture.
014.Select your Gradient Tool (G).
015.Go to the top of your screen where your gradient settings are & choose a gradient called "Orange, Yellow, Orange".
016.Get your cursor & start from the top left corner of your selection & go to the bottom right corner of your selection. Then let go.
017.Now go Edit>Stroke.
018.Apply the following settings:
Width: 3px
Color: #000000
Location: Center
019.After pressing Ok this is what you should have so far:
020.Now make another selection at the bottom right corner of your picture, give it a stroke of 3 pixels & fill it with white.
021.Add a new layer.
022.Make a selection around the picture as shown below.
023.Go Edit>Stroke again but this time give it a stroke of 4 pixels.
024.After pressing ok your picture should look like this:
025.Now go Filter>Blur>Blur More.
026.Then Filter>Distort>Ripple.
027.Enter 20% as your amount & make it madium size.
028.Go Filter>Sharpen>Sharpen More.
029.This is the fun part. Add some captions. I added the date & a caption in my example. If you want your picture to look more like a comic book, download
this
font. It's called Digital Strip. If you don't knwo how to download & install fonts, just follow my "Installing Fonts" tutorial by clicking
here
. So have fun with it. I hope you like your outcome.
If you got lost or have any questions, comment the tutotial & I'll get back to you as soon as I can. :D
Tutorial Comments
Showing latest 10 of 24 comments
love this...ima make a random comic book now :3
very cool.
So cool =0 haha thanks, great effect
Hahaha that's cool =)
woah! cool!
that's awesome..I love it
awsum....werked like a charm...
THANXS (:
Thanks for another amazing tut, your work is amazing
damn great!
View all »