Make Your Own Newspaper Article.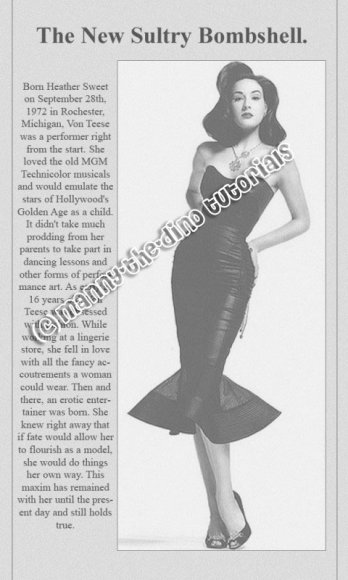 Tutorial
Click on thumbnailed images to enlarge
**NOTE**
I did this tutorial in Photoshop CS3 Extended which is why some of you

may

have problems. However, that

does't

mean this tutorial won't work in other versions of Photoshop. Just try it out.
Want to create your own newspaper article? Well now you can with my tutorial. I will be using the oh so fabulous Dita Von Teese this time. Here's the before: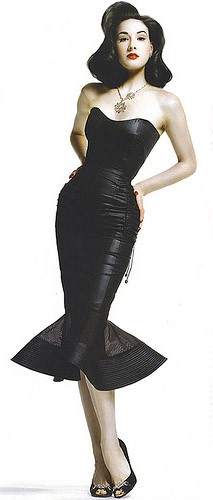 Here's the after:
Let's begin!
001.First of all, go File>New.
002.Play around with the settings to get the size you want for your document. This also depends on the picture you are going to be inserting. Since my picture is long, I will make my document 600x1000 pixels.
003.Once you have your new document, fill it with the color #dddddd.
004.Now go Filter>Noise>Add Noise.
005.Apply the following settings:
Amount: 2.50
Distribution: Uniform
Monochromatic: Check
006.Now grab the picture you want to put on your article, & paste it.
007.Go Image>Adjustments>Desaturate.
008.With your "Layer 1" layer selected, bring down the fill to 58%.
009.Double click on your "Layer 1" & go to the "Stroke" section. Apply the following settings:
Size: 1px
Position: Inside
Blend Mode: Normal
Opacity: 41%
Fill Type: Color
Color: Black
010.Your picture should look like this:
011.Now select your Line Tool (U).
012.Make sure your weight is set to 2px & your foreground/line color is set to #a5a5a5.
013.Click on where you want to start to draw your line, hold down shift, & draw the line.
014.Do the same thing to the other side.
015.Now select your Horizontal Type Tool (T). I recommend you use 18.8 as your font size & Times New Roman for your headline. As for your body copy, I suggest you use the same font, except change the size. Just to keep it looking like a real newspaper.
:)
016.Add a catchy headline, some body copy & you're done!
:)
If you got lost or have any questions, comment the tutorial & I'll get back to you as soon as I can. :D
Tutorial Comments
Showing latest 3 of 3 comments
I love the pic and the tutorial too ^^
lol takle monster's comment is funny :]

yes it's true i also love your manny-tuts! lol you're awesome girlie!!

love ya,
kari

oh my, manny-the-dino, I think I am in love with you. You have amazing tutorials. And great ideas. And I just love you.
:]]
Tutorial Details
| | |
| --- | --- |
| Author | manny-the-dino |
| Submitted on | Nov 28, 2007 |
| Page views | 57,332 |
| Favorites | 132 |
| Comments | 3 |
| Reviewer | IVIike |
| Approved on | Nov 28, 2007 |