Scene Rocket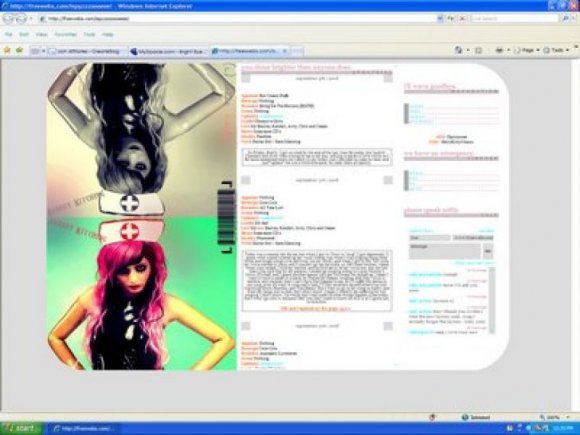 Affiliate Description
A brief description of the affiliate website
Well, Scene Rocket [Zoe] makes blends/banners, and layouts mostly, and enjoys taking request from people to make designs for they're sites and such. Zoe makes Mibba, MySpace, and a few more type of different styled layouts, and likes designing. Zoe has had three years of designing for sites, and her own. She does it as a hobby, and enjoys haivng comments that mention how much they loved the work she did.
Affiliate Comments
Showing latest 3 of 3 comments
GHD has been around since 2001 and wasn't available for sale in the United States until 2004. Women are always wanting to style their hair in different ways and a lot of young women today love straightening their hair. Whether they wear it down or up in a ponytail, stick straight hair seems to be popular. The GHD ceramic hair straightener is somewhat expensive, but it's made of quality ceramic and gets great user reviews.

GHD currently offers 3 different flat irons:

1. GHD IV Styler: This model is perfect for everyday styling. ?Hair Straighteners? The GHD IV Styler is their most popular model and it can be used on any and all hair types. In addition to straightening the hair, it can also create curls and flips to achieve a variety of different hairstyles.

2. GHD IV Salon Styler: This GHD ceramic hair straightener is for those who have thick or afro hair. The iron is made of thicker plates to work better for those who have thick or hair that is difficult to manage. Like the previous model, this flat iron straightens, but it also works well to create large, soft curls.

3. GHD IV Mini Styler: The Mini Styler is perfect for men or those who have short hair. ?Green Ghd The plates are smaller than a normal size flat iron, making it easy to style hair that is short or fine. While it can easily straighten hair, it can also be used to create curls, waves and flips.

GHD is known for their high quality ceramic straighteners. They are designed to last for years and actually come with a 2 year guarantee if they're purchased from certain retail stores. Ghd Wide One of their ideal features is that they all have an auto-sleep mode. In case the user forgets to turn it off, it will turn off automatically after a short period of not being used.

Welcome To Our official website::www.discountghdsales. com
now,we should study our book.
Britain's Borders Strengthened Using
Biometric Technology

Affiliate Details
| | |
| --- | --- |
| Site owner | SceneRocket |
| Submitted on | Sep 6, 2008 |
| Last activity | Dec 16, 2:21am |
| Uniques in | 7,981 |
| Uniques out | 2,839 |
| Comments | 3 |