Simpler Scrollbox for 2.0!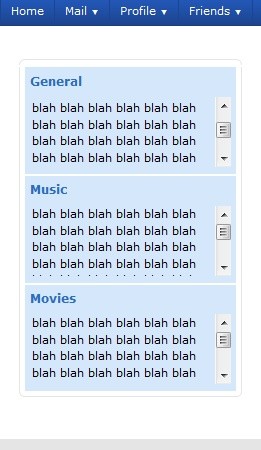 Author's Comments
Look carefully for specific instructions
adjust the height, width, border width(optional), border color(optional) to your liking
place anywhere you want it to show

any questions? just ask!

enjoy!
Script Code
Copy and paste to About Me
Script Code
Copy and paste to I'd Like to Meet
Script Comments
Showing latest 10 of 20 comments
Ermmm does it work on About me? o.o the Blurs part? :x
ur welcome!
Thanks! :)
Thank you :)
Any Way To Position, (Specifically Center)it?
thanx it helped
haha o wow.
thanks(:
ten years later haha

Wow this works! Thankss.
@RubiLovesCuckingFookies
i don't know why it's not working for you. it's a pretty basic code that works on 1.0, 2.0, even your creatblog profile!

i'll msg you to see if i can help.
this doesnt workk! no scroll box codes i've tried work in 2.0,

:@@
View all »
Script Tags