Change the look of your MOOD!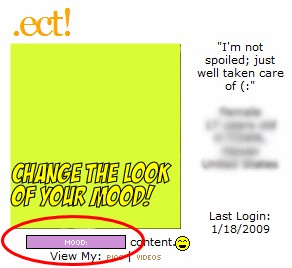 Author's Comments
Look carefully for specific instructions
CHECK OUT
DZYNE.COM!
FOR MORE!
PLEASE READ:
• The current colors/styles in the coding below will make your mood look like the one in the screenshot.
• If you want to change the way it looks, you can change any of the attributes to your own!
*PM me if you need any help.
Script Code
Copy and paste to About Me
Script Comments
Showing latest 8 of 8 comments
:D nice, fav, might use it sometime
WHEN I ADDED IT, IT ONLY SHOWS A PURPLE BOX, EVEN IF I CHANGE THE FONT COLOR IT STAYS LILAC
this is only for your layout profile?
any for pro 2.0?
Nice Profile! thats Cool
Shaaa weeet! Thanks
ditto.
=]
nice.
Script Tags