Music Girl_Brunette (ROLLOVERS!)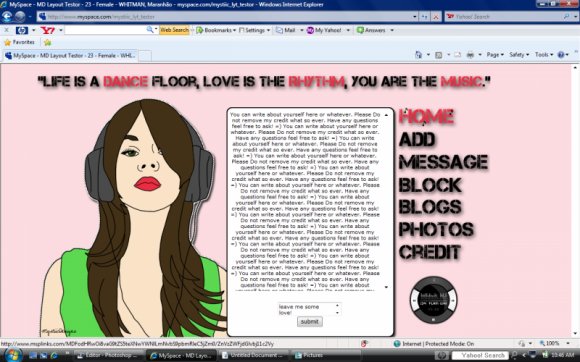 Designer's Comments
Look carefully for specific instructions
DO NOT REMOVE MY CREDIT AT ALL and DO NOT ALTER THE CODING WITHOUT MY PERMISSION!!!!
Comments are nice =)
-Dont forget to put your friend ID in the places of the "XXXXXXXX".
Dont know how to do that? then click
here
for my div overlay help.
-Also, wanna change the music? simply go to myflashfetish.com and make your own music player, just make sure when you pick the music player its the circle one because no other music player will fit in that spot.
-The live preview may show the div overlapping the main myspace navi and Ad but I assure you when you put the code on your myspace is does not do that! Also, click refresh when you open the live preview just to make sure the div image is centered :)
-All my layouts are made on a widescreen laptop so if the div isnt centered when you use it its prob because of that. Also, On all my other DIV overlays i have a link that shows you how to center it for your profile, problem is because of the rollovers in this layout i cant really show you how to center your profile without you moving all the links around. So if you have html knowledge and know how to move the rollovers and the div image, feel free to do so, but if you don't I wouldn't recommend that you did, sorry =/
CREDITS:
-Font from dafont.com
-The image of the girl i line drew is from http://faestock.deviantart.com/art/Blue2-4-68885743
-Music from myflashfetish.com
CLICK THE LINKS BELOW TO VIEW,
-
Directions and help
for this layout.
-MystiicDesigns
Myspace
-MystiicDesigns
Createblog
Using This Layout
For specific instructions read designer's comments
This is a div overlay layout, html knowledge required!
1. Log into myspace.com
2. Click on

Edit Profile (Profile 1.0)

3. Copy

(ctrl c)

and paste

(ctrl v)

code to the specified fields
Update Friend ID
Input Friend ID to automagically update code
Layout Code
Copy and paste to About Me
Layout Code
Copy and paste to I'd Like to Meet
Layout Comments
Showing latest 10 of 11 comments
oh my goodnesssss :) this is awesome. easily one of myfavorites.
think you should do a red head, their alwasy left out :-/
COMPLETLY agree with you, actually it was from her image BUT i found that image months ago and then when i made the layout i couldnt remember where i found it so actually thank you for giving me the link so now i can put the credit up :)

As you can see by all my other layouts, im not a jocker, i give credit ALL the time so you can see that i just didnt remember where it was from lol

thanks again :)
I really love this layout, in fact I am currently using it, but as I was on deviantart.com I saw a stock set and the girl from it, and the girl in your two layouts, looked very much connected, and I felt the need to say something
http://faestock.dev iantart.com/art/Blue2-4-688857 43
I love your layouts, but I am also very much against art theft/stock theft, and I felt the need to bring it up :/ Especially since you're asking everyone to leave the credit on to you for the layout, but there's no credit to the stock-maker...

isnt this god is a dj by pink?
cute(:
i want you to see how it looks on my page!
You are so great at layouts. I absolutely love it. Another fantastic job. :o)
amagadddddd.. this is FABULOUS.. i am so excited you did one blonde and one brunette.. you should vector meeee and do one!! lol :) awesome layout
My favorite part is the rollovers. ^_^ And the music player is very cute too. Good work. ~ZeroGrafics
View all »
Layout Tools
Layout Affiliates