header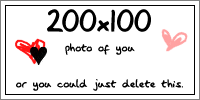 Name: coolchan
Age: twenty years old
Location: my computer chair
Status: awesome
etc: etcetera
etc: etcetera

you can just delete this section if you don't want to keep it.

o [ bold ] x [ underline ] x [ italics ] x [ strikethrough ] x [ link ] o
about the layout
Nostalgia
features two adorable boys that also belong in the category of unknown artists' drawings. I have a lot of those pictures unfortunately D: If you're the artist, or know the artist and want credit or want this layout removed, contact me and I'll be more than happy to oblige you :D
The quote is just a random brush I have, but it's from a book called "Identity" by Milan Kundera and it's an absolutely beautiful quote. I altered it slightly (changing she/her to "you").
This is probably my favorite layout so far. I'm so proud of it *w* The rollovers were a pain in the ass though, but I finally got them to work with the help of
skylitex
<33
I created this layout using Firefox, which I urge all of you to use >:| I've tested and optimized it for Internet Explorer, too. So the only people who have to worry are the eight of you who use browsers other than FF/IE. -glares at opera users-
If you include images in your about me, make sure they're no wider than 345px, or else they won't fit.
contact the designer
I respond the quickest to a direct email at
heyshadylady[at]gmail.com
- obviously you change the [at] to @. If you'd like to see more j-graphics, you can either visit my
graphics site
or my
createblog
. I'm very friendly, so don't hesitate to ask me anything :3
how to install/use
Just copy all of the codes and paste them into your myspace profile. Make sure you change all occurrences of XXXXXX to
your
friend ID number. There are no occurrences in the about me section, but six occurrences in the "I'd like to meet" section.
Please make sure you do this BEFORE you save to myspace.
comment box
This is completely optional, since there's a link for comment to the right, but I'll leave this here in case you want one :D
terms of use
The usual: please do not remove the credit to me. I worked hard to get this layout looking nice, so the least you could do is leave a little link up to me? Please do not alter anything on the layout either (colors/header image/background/etc.) simply because if the layout does have my name on it, I want it to appear exactly as I intended it.
I also don't want you to think "Oh, well I've changed the colors and header image... so it's pretty much MY layout now -removes credit-" Oh, and thank you for using my layout~ ;D
music and etc
you can include youtube videos or a myflashfetish music player here.

make sure the you change the width&height on youtube videos to
width="250" height="202"
(it occurs twice in the usual embed script)