Retro Neon Boombox v.2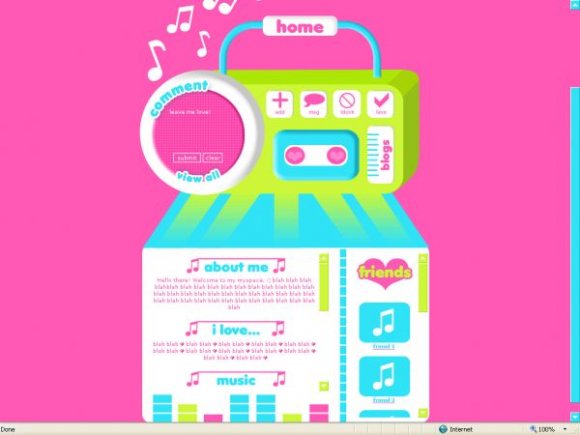 Designer's Comments
Look carefully for specific instructions
Visit falsetigerlimbs.net to see all of my layouts and get help installing them
This is a remake of my popular Retro Neon Boombox layout. I wanted to make it 3D, which was really hard for me. I know it's not perfect, but I think as a whole it looks ok.
There are also two other versions of this layout:
-
The original Retro Neon Boombox
-
Default Retro Neon Boombox layout
Remember to replace all of the XXXXXXs with your friend ID *BEFORE* hitting save all changes. And don't use this layout unless you have experience with HTML.
To replace the "Your pic" image with your own photo, find this link in the Who I'd Like to Meet code:
http://i194.photobucket.com/albums/z19/falsetigerlimbs/boomboxnew/yourpic.gif
and replace it with the link to your photo. If you're linking the photo directly from myspace, you should use the size that appears as your default photo, if possible.
For the friends section...replace
http://cbimg6.com/layouts/07/09/21/21708ah.gif
with your friend's photo, preferably a thumbnail or the photo will get cut off. Replace
friendID
with that person's friend ID. And replace
friend #
with their name or nickname.
Blog instructions are included in the layout itself.
If you're having trouble finding anything in the code (such as the XXXXXXs), copy and paste the entire Who I'd Like to Meet section into Notepad or a similar program. Go to Edit > Find. Next to Find what: paste what you're looking for (ex.
XXXXXX
), then press the Find next button, and it will be highlighted for you.
Script credits: blaqheartedstar, hikki168, airguitarist, destinee, anime-essence
(for hiding things)
Using This Layout
For specific instructions read designer's comments
This is a div overlay layout, html knowledge required!
1. Log into myspace.com
2. Click on

Edit Profile (Profile 1.0)

3. Copy

(ctrl c)

and paste

(ctrl v)

code to the specified fields
Update Friend ID
Input Friend ID to automagically update code
Layout Code
Copy and paste to About Me
Layout Code
Copy and paste to I'd Like to Meet
Layout Comments
Showing latest 10 of 48 comments
its aawesome! i love it
scratch the pic thing, its all good now.
except it still doesn't cover the navbar.
but, it's the most amazing layout ive ever had :]
muy bien.
The only thing Im having issues with is that it doesnt cover my whole nav bar. And that, so far, [i havent played around with it too much yet though] i haven't been able to replace my pic.
there is little box's above my friends pictures [x] < like that why? and i've done everything to get rid of them but they wont shift... apart from that i love my layout it's proper funky xo
i really love this layout. but when i put it on my profile, my song didnt work anymore. is that normal?
LittleK, I designed it in Firefox o.O
Did you copy the code correctly? If so myspace might have changed something... is it just the navigation bar that's interfering? Is that what you mean? Because the rest of the code was tested in Firefox.
you should make this work on firefox!! its really cute ... i love it!
Rina, I just didn't center this layout for all resolutions; I only centered it for 1024 x 768. I only recently started centering for all resolutions, because it takes more work.
i have this layout...and i love it. but its not centered on my page, so it looks funny...maybe im just dumb and i cant figure it out..
im having some problems changing the "your pic" in the about me section to one of my own pictures.. every time i put one of my pics in, it disables the 'view my pics' link.. please help me out :?
View all »
Layout Tools
Layout Affiliates