Xanga Tracker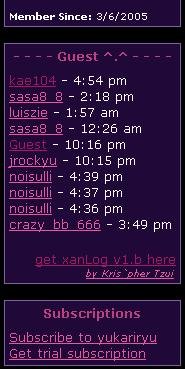 Author's Comments
Look carefully for specific instructions
The development of the program is still on the early stage, it might not compatible with later version. It may also contains some knew and unknown bugs. The code may be modified without any announcement. You take the risk in using it.


The Installation:
Go to your private Xanga page.
Go to your Look & Feel configuration page.
Under the Website Stats section enter the following code
There are current 5 options:
num - The numbers of record shown
offset - TimeZone offset from GMT
show - 0 - showb privately (require login into xanga)
showguest - set 0 to hide anonymous
myTitle - this is the title for your module
ONLY make changes in these few lines of code.
Script Code
Copy and paste to Website Stats
Script Comments
Showing latest 3 of 3 comments
doesnt work for me
hey, I've tried heaps of times to get this onto my site, but it never appears. does it actually work?
how to install?